Hello Beautiful Souls. It was an exciting summer this year because I went to see my favourite band! The Kings of Leon was my third concert this year. [Whoop Whoop]. My dream came true that day. I finally saw them perform LIVE. The band exceeded all my expectations and are such great performers. The sound, visual effects and performance were outstanding.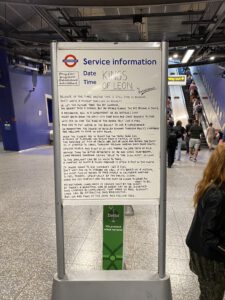 The night started with The Vaccines. I didn't know them before, but [let me tell you] got one great band richer that night. [MAYBE YOU WILL TOO?] A great Indie Rock band formed in [West] London.
Then finally, KOL [Kings of Leon] came up. From the start, they performed their songs back to back, "When you see yourself, are you far away" to "Sex on Fire". Lots of songs from different albums. Such as "The Bandit", "Slow night, So Long" [I love this song], "King of the Rodeo", "Taper Jean Girl", "Knocked up", "Manhattan", "Time in Disguise", "Waste a Moment", "Radioactive", "On-Call", "Pyro", "Closer", "Molly's Chambers", "Echoing", "Use Somebody", "Revelry", "The Bucket" and ending with "Sex on Fire".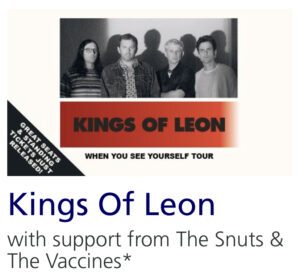 A fun fact I heard from some fans on the way back home is that the band name originates from their grandfather Leon, so they are the Kings of Leon. [Genius name for the band].
An excellent experience again in the O2 Arena. I wouldn't want to miss this in any way. To see some vids of the concert, go to this highlight on Instagram. Or one special vid for you below.
[metaslider id="9092″]
#hellolondon #londonlife #livingabroad #happy #goodvibes #misswidjaja2022 #mwlifeafter35 #helloconcerts #staycreative⁠ #funweekend #friends #O2arena #KOL #KingsofLeon #Whenyouseeyourselftour #Sexonfire #TheVaccines #TheBandit #SlownightSoLong #KingoftheRodeo #TaperJeanGirl #Knockedup #Manhattan #TimeinDisguise #WasteaMoment #Radioactive #On-Call #Pyro #Closer #Molly'sChambers #Echoing #UseSomebody #Revelry #18 @kingsofleon @thevaccines #londonist