Hello Beautiful Souls! This blog post is about the Japan House in Kensington High Street. Beautiful serene place [with excellent aircon in summer]. When you walk through the entrance, you will enter the shop first. Go downstairs to see the current exhibition.
The exhibition this time was until September, so at the time this comes out, there must be another exciting exhibition going on. The japan House often changes its exhibits, so it is a lovely place to go once in a while.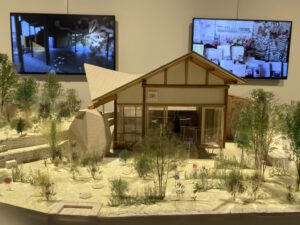 SYMBIOSIS – LIVING ISLAND
The exhibit I saw was called Symbiosis. It stands for the state of different organisms living together in support of each other. The island of Inujima is a symbiosis called the "Art House Project", which brings residents, architects, artists and curators together. The project keeps evolving, so at the moment, there are five galleries for art installations, workshops, seminars, bars, stays and a botanical garden living together as a symbiosis.
The shop itself has beautiful imported products and art supplies from Japan. It is worth looking around. They had this yuzu citrus ponzu imported from Japan that I had to buy and try. The sauce is delicious on cold noodles or summer salads. I might try the soy sauce with truffles next time.
[metaslider id="9357″]
#hellolondon #londonlife #livingabroad #happy #goodvibes #misswidjaja2022 #mwlifeafter35 #Japanhouselondon #Yuzu #JapanHouse  #exhibit #art #london #Kensingtonhighstreet #Symbiosis #Inujima @japanhouseldn #londonist #london.travelers #londoning #londonblogger