Hello Beautiful Souls! Today is a post that can be a bit unfortunate for the people who haven't visited this museum before, but don't worry, because the museum will be back in 2026 at Smithfield Market. The Museum of London closed its doors on the 4th of December 2022 after 45 years at London Wall.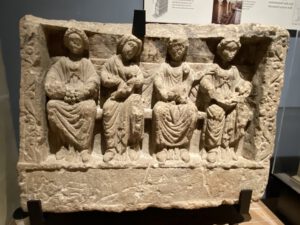 As this museum is in my neighbourhood, it always crossed my mind to go, but it wasn't on the top of my list. The moment I saw the news that they were closing the doors, I had to go. Luckily I had a chance to go on the last day. I am so pleased that I went and [kind of] regretting I didn't go before. There is so much to see about the history of London from prehistoric to the modern era. I couldn't see all, so I strolled around and got myself a book with all the "highlights" of the museum.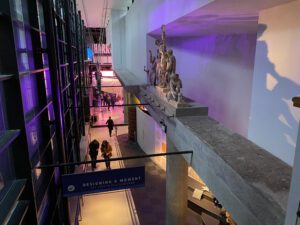 I am surprised this museum has over a million objects that are all part of London's history. There are so many galleries in this museum, from the palaeolithic period to Londinium, to the Black Death, to War, Plaque & Fire, to the Great Fire [1666], to Expanding the City [the 1670s – 1850s], to People's City [1850s – 1940s], to World City [1950s – today], to Grime Stories. Too much to write about all in this blog post.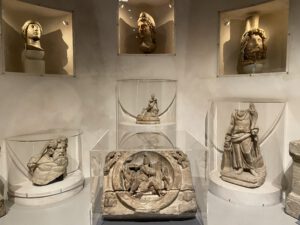 The most interesting for me was the Londinium, the period when London was part of the Roman Empire. It is incredible how many objects are kept safe in this museum. They found [lots of] artefacts from that period. They found the location of a roman bath and an ancient Amphi theatre [which is under The Guildhall Art Gallery, where you still can see some pieces of the theatre in their basement].
I also liked some facts, like the first underground railway was Kings Cross in 1863. Another fun fact St.Pancras railway station opened in 1868. Even the Jack the Ripper murders, which happened in 1888. I did the Jack the Ripper guided tour earlier in the year. During the guided tour, they explained a lot about the period it happened and [of course] the murders.
If you are curious about this museum, you must go when they reopen at Smithfield Market. This location is spectacular. I can't wait for them to reopen here.
[metaslider id="11376″]
#hellolondon #londonlife #livingabroad #happy #goodvibes #misswidjaja2023 #mwlifeafter35 #museumoflondon #londonwall #barbican #palaeolithicperiod #Londinium #theBlackDeath #london.travelers #thingstodoinlondon #londres #londonuk #visitlondon #londontravel #londonthingstodo #WarPlaque&Fire #londoning #theGreatFire #ExpandingtheCity #People'sCity #WorldCity #GrimeStories #RomanEmpire @museumoflondon