Hello Beautiful Souls! Welcome back to another musical blog post. This time a blog post for Harry Potter fans. If you have wandered around London's West End, China Town, and Leicester Square, you must have passed Shaftesbury Avenue and seen the Palace Theatre with Harry Potter and the cursed child. You can't miss it.
It is actually since 2021 that I became a fan of Harry Potter. Much appreciation to the enthusiastic guide we had during our trip to Oxford. Because of him, I started to read all the Harry Potter books. I finally understood the adventures and mainly the characters of the story.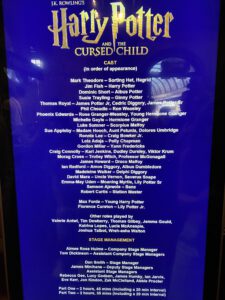 So last summer, I was halfway through the books [book five to be exact], and I decided to treat myself and see the play. No spoiler alerts here, but there were a few for me during the play. I missed reading the last two and a half books before going. Fortunately, it didn't bother me at all. There is so much magic going on. Hard to believe it is unreal. The dementors were crazy scary.
Be prepared to spend a day at the Palace Theatre, if you decide to go. The Harry Potter play is in two parts, the first act starts at 1 pm and till 3:45 pm. There is an interval within both parts [luckily]. The second act begins from 6 pm till 8:30 pm. Comparing the play with the books, it is pretty similar. They are long but full of magic.
It is [definitely] worth going, especially with young children who adore Harry Potter. Between the two parts, go for dinner since you will have more or less two hours to wander around. For dinner suggestions, pop to the Foodcorner and see if there is anything nearby or go to China Town around the corner.
[metaslider id="9737″]
#hellolondon #londonlife #livingabroad #happy #goodvibes #misswidjaja2023 #mwlifeafter35 #hellogems #staycreative⁠ #harrypotterandthecursedchild #harrypotter #theatre #entertainment #WestEnd #PalaceTheatre #ShaftesburyAvenue #Chinatown @cursedchildldn #londonist #london.travelers #londoning #musicalmonth23 #musicalmonth #musicalJune