Hello Beautiful Souls, we are in the midst of our musical month, and there's a thrilling play at the Lyric Theatre that's worth checking out. "2:22 – A Ghost Story" is a supernatural thriller that will keep you on the edge of your seat from start to finish.
The play follows the story of Jenny, a young woman who moves into a new apartment and soon discovers that it's haunted by the ghosts of its previous inhabitants. The tension builds as she tries to uncover the mystery of the ghostly occurrences and their connection to her own life.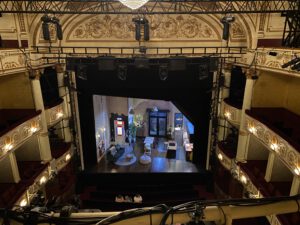 As the play progresses, the audience is taken on a rollercoaster ride of fear and suspense, with unexpected twists and turns that keep you guessing until the very end.
The performances of the actors are outstanding, bringing to life the eerie atmosphere and spine-tingling moments that make "2:22 – A Ghost Story" a truly unforgettable experience.
But what sets this play apart from other horror productions is the way it combines supernatural elements with gripping human drama. The characters are relatable and their struggles with love, loss, and regret are woven seamlessly into the story. You'll find yourself emotionally invested in their fate, even as the ghosts lurking in the shadows.
And then there's the ending, which I won't spoil here, but I can promise you that it's mind-blowing. It's the kind of finale that leaves you thinking about the play long after you've left the theatre.
Even if you're not a fan of scary movies or horror stories, "2:22 – A Ghost Story" is [definitely] worth seeing. It's a masterclass in suspenseful storytelling and an experience that will stay with you for a long time. So, don't miss out on this amazing play – head to the Lyric Theatre and prepare to be scared!
[metaslider id="14244″]
#2:22AGhostStory #SupernaturalThriller #LyricTheatre #ScaryGood #SpookyVibes #ActingGoals #SupernaturalDrama #HumanStory #RelatableCharacters #MindBlowingEnding #TwistEnding #MustSee #SomethingForEveryone #FriendsNightOut #LyricTheatreFun @222aghoststory #londonblogger #misswidjaja2023