Hello, Beautiful Souls! Today I'm excited to share my recent visit to the Hallyu! The Korean Wave exhibit at the Victoria and Albert Museum in London. As someone who's fascinated by Korean culture and its global impact, I couldn't wait to experience this celebration of all things Hallyu.
The exhibit spans several sections, each dedicated to a different aspect of Korean culture, from history to fashion, film, music, and more. The first section delves into the history of Korea, offering insights into the country's past, its traditions and customs, and how it has evolved. As someone who knew [very] little about Korean history, I found this section [particularly] fascinating and informative.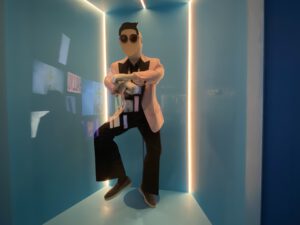 Moving on to the film industry section, I was blown away by the creativity and innovation of Korean filmmakers. From iconic movie scenes to original costumes, this section showcased the beauty and diversity of Korean cinema. It was interesting to learn about the history of Korean cinema and how it has influenced the industry worldwide.
Another highlight of the exhibit was the section dedicated to K-pop, one of the biggest cultural exports from Korea. From the early days of K-pop to the global phenomenon it is today, this section showcased the evolution of the music genre, including iconic outfits worn by K-pop stars. I am not a K-pop fan, but I loved learning about the history and culture behind this popular genre.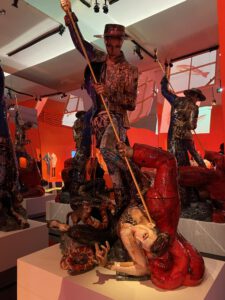 What I loved most about the exhibit was its attention to detail. From the lighting to the sound to the placement of the exhibits, everything was designed to create an immersive experience. One of the most fun aspects of the exhibit was the chance to learn some K-pop dance moves and be featured in a video clip. This interactive experience was a great way to engage visitors and make them feel part of the exhibit.
All in all, the Hallyu! The Korean Wave exhibit at the Victoria and Albert Museum is a must-visit for anyone interested in Korean culture or looking for a fun and immersive experience. Whether you're a fan of K-pop, Korean cinema, or just curious about Korean history and traditions, this exhibit offers something for everyone. Plus, it's a great opportunity to learn about the impact of Korean culture on the world and the importance of understanding and celebrating diversity.
The exhibit is open until June 25th, so you still have plenty of time to experience the magic of Hallyu!
In conclusion, if you're a fan or not of Korean culture, the Hallyu! The Korean Wave exhibit at the V&A is a must-see. It's a fantastic celebration of all things Hallyu, and an opportunity to learn, engage and be inspired by the rich and diverse culture of Korea.
[metaslider id="14065″]
#Hallyu #KoreanWave #KoreanCulture #V&A #FilmIndustry #Kpop #LondonExhibit #hellolondon #londonlife #livingabroad #happy #goodvibes #misswidjaja2023 #mwlifeafter35 #V&A #victoria&albertmuseum # #art #london #SouthKensington #artist
@V&A #londonblogger