Hi Lovely Readers, hope you are all well. In this "Hello London" blog I would like to discuss with you how to get a JOB in London. This will be just some general tips for you to use as a guide in your journey finding new opportunities in this wonderful city.
The reason why I want to share this with you guys, is because I think finding a new job in a different country can be overwhelming sometimes. Where do you start, where should I look for a job and do I know the language enough to do a great job? Lots of questions I was thinking even before I moved to London. Of course, you need to be prepared before you arrive because you want to work as soon as possible and be productive. I am not going to lie, I was scared in the beginning and not so confident. How could I work in an environment where they only speak English? But in time I was getting more and more confident to get the job I wanted. If you have a good support team, that will help a lot! For me, it also helped start writing in English, so I started this blog to learn and get familiar with the language.
After my first job interview, which went well for a first time. I was super excited and I got more comfortable in how this interview procedure works. After this interview, I just had two more interviews. I was lucky enough to choose one of the two companies I had an interview at (they both wanted me to work for them) and after two months I am happy I have chosen to work for the company I am working for today.
I feel so much better now I work again and meeting new people. I know how it feels when you are looking for a job and it still isn't happening for you. I felt the same sometimes, but trust me there is a job for EVERYONE!
Don't worry about your English if you can explain yourself or describe things, it will be fine.
Of course, depends on the type of role you want, but if you have studied or have a degree in any kind of way, it should be just fine. So, no worry… check the rest of the blog and get inspired again to find the job you always wanted in London.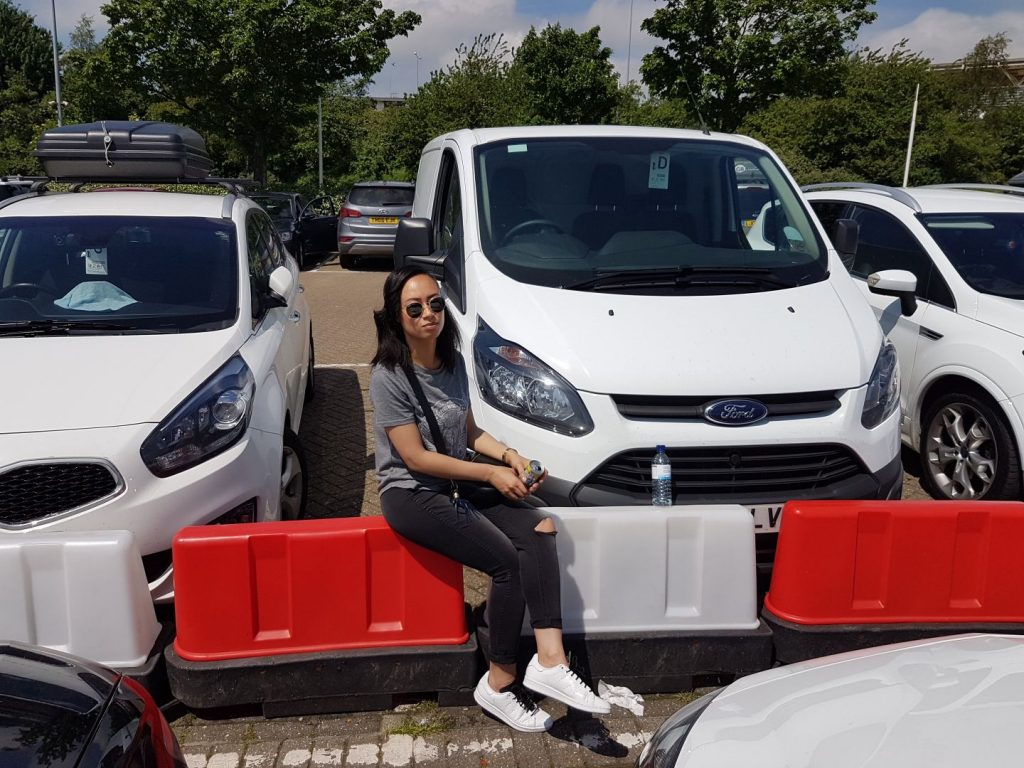 Me on the day that  I moved to London
So where should you start
Start with getting your (CV) Resume together. Learn about what you should or shouldn't say in the Resume.
– Keep the Resume simple.
– No photo needed.
– Let the recruiters know you are based in London by placing your address and phone number on the Resume. (Preferable an UK number, but if recruiters can't contact you via your number. They will send an email)
– Tell mostly about your achievements for each role you did (only the roles that are important for the new role)
– Max two pages
– Leave everything that isn't important for the role away
– Use key words that they use for the new job description also in   your previous job experience  (This way recruiters can easily find and scan your Resume to see if you are a match)
– After work experiences comes the studies and degrees.
If you have done this then the next step is just to send…send..send away the Resume on as many job related websites as possible. Of course, you should check which site has more the kind of job opportunity that you want than just random job opportunity sites.
The first step is done, you are online and recruiters can find you!
My experience is when I placed my Resume online, usually the next day I got a phone call or email from a recruiter with a job opportunity. It can be so fast! And if not… just adjust your Resume a bit and try again. If you don't get any respond, ask for help and let someone check your Resume. It is always better to have an extra pair of eyes to check everything is okay on the Resume.
Which sites should I use
After your Resume is ready for the world, you can check online which sites should I subscribe to or which sites has the job opportunities I am lusting for. This can be different for everyone, so I am just going to give you the ones that I used and I found a lot of job opportunities.
Prepare for the actual interview
After everything is done. Your Resume looks perfect, you have applied on opportunities online, received some phone calls and emails. It is a match and you are invited to go to a job interview.
YEAH! You have done great! This means that they like your Resume and just want to see if the person behind this Resume is also a match for the company.
This can be overwhelming, but don't let this affect you in anyway.
You can do this! And the best way is to prepare yourself:
Know about the company
What do they do, what are the products and services, read the latest articles about the company, about the company culture and so on.
Basic questions preparation for every job about you
– How would you describe yourself?
– How would others describe you?
– What was your greatest success?
– How did you achieve it?
– What has been your biggest failure?
– How could you improve yourself?
– How do you handle criticism?
– Do you work well with others?
– Do you need other people around to stimulate you or are you self-motivated?
– Are you accepted into a team quickly?
– Can you act on your own initiative?
– What motivates you?
– What do you dislike doing?
– Can you work under pressure?
– What interests do you have outside work?
– If you could be an animal which one would you be?
– Where do you see yourself in 3 years' time? / What are your long-term goals?
Basic questions preparation about your previous job
– How much does your last job resemble the one you are applying for?
– What do you think of the last company you worked for?
– Why are you leaving your company?
– How did you get on with your previous manager/supervisor, coworkers and subordinates?
– What did you do on a day to day basis?
– What problems did you encounter in your last job?
Basic questions preparation about the new related job
– Why do you want this job? think what you like about the company and what you like about the job role.
– What qualities do you think will be required for this job?
– What can you contribute?
– Why do you want to work for this company? / Why should we employ you?
– What do you know about this company?
– What interests you about our product (or service)/or working for us?
– You have not done this sort of job before. How will you cope/succeed?
– What do you like and dislike about the job we are discussing?
– What are you looking for in a new job?
– What level of salary are you looking for now?
– Why you are interested in the role?
– What you think will be expected of you in the role?
– What you know about the role?
– Give me four of your strengths?
– Why you would be good at the job? / Why do you feel you are suitable for the role?
If you prepare these questions before, it will help you to feel more confident during the interview. You will see the interview will be more like a conversation than an interrogation. Of course, they will not ask all questions on the list, but if you know all the questions, you  will be able to  improvise easy at any question that comes your way.
So good luck guys, I really hope this will help someone to get the job they want here in London or anywhere else. Keep in mind, this is my experience so far and I found a job that i really like. So just do your research on how to improve your resume and prepare for the interview.  Remember if they like your resume, halve of the work is already done!
Preparation is the key
Ciao! ♥ Miss Widjaja
If you like the blog please share it on Facebook.