Hello Beautiful Souls! This blog post is the first weekly blog post of the new year and one of the best [and most impressive] experiences I had in 2022. The Coldplay: Music of the Spheres World Tour in the Wembley Stadium.
I am very grateful for how lucky we were [my cousin and I] to have gotten tickets to one of the best concerts in the world. Mainly because after the concert, I did try again to get my hands on some tickets for 2023. It was just mission impossible. [Let me tell you, It was that awesome!]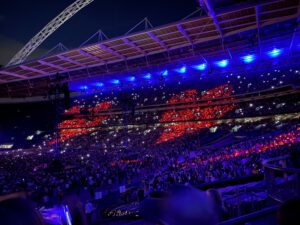 Wembley is already overwhelming. The stadium can fit 60,000 people, but you will be stunned when you see every one of us with a light-up bracelet. The concept of light-up bracelets is truly a genius idea. The light-up bracelets are programmed to light up to the music. It just gives this extra dimension to the concert. As soon as the Coldplay began, time flew by. Everyone was dancing and singing in awe when we saw all the lights and fireworks alongside their next-level performance.
If you have you have a chance to see Coldplay, go! To get an idea of the concert at Wembley, see my Coldplay highlight on Instagram.
[metaslider id="10125″]
#hellolondon #londonlife #livingabroad #happy #goodvibes #misswidjaja2023 #mwlifeafter35 #helloconcerts #staycreative⁠ #funweekend #cousins #Wembley #Coldplay #20-08-22 #musicofthespheresworldtour #everyoneisanaliensomewhere #nextlevelconcerts #fireworks #makingmemories #ChrisMartin  #letgoagain #wembleystadium @wembleystadium @coldplay #londonist #coldplaywembley #coldplaylondon #londonist #london.travelers #londoning #londonblogger