Hi Lovely Readers, hope you are all well. Finally, a new "Hello London" blog from me. This time I will take you with me on a birthday weekend we had a few weeks ago. So, if you need to organise an upcoming Birthday, please stay tuned and read on…
Birthdays and Christmas holidays are my favourite days in the year. (sorry can't help that)
On these days I like to do something special with the ones I love, like or appreciate. It is always nice to buy something the birthday guy or girl really appreciates, rather than just a random shower gel or soap. Unless you love those things of course. I think the best gift is to make new memories together. Usually I like to go to a nice restaurant and drink some good wine. Why not… It is always good to eat nice food and have nice company.
This time I wanted to surprise my boyfriend with a nice dinner in London. I wanted to make it special by going for something different than the usual steak we go for.
So, I thought let's go for LOBSTER!
We never ate lobster together, so this was our first time eating it together. (See, just go for new experiences )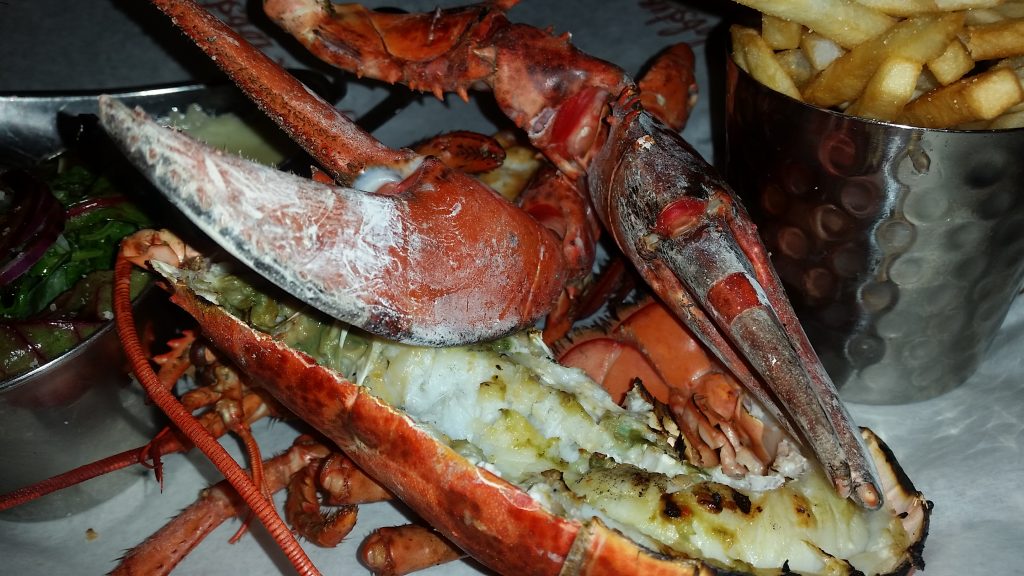 Burger and Lobster
There is a super nice and busy place called Burger and Lobster in London. It is recommended to make a reservation by email or phone before. We were there on a Saturday and it was very busy. They have a few restaurants in the city, so you can just choose the one that is closer to where you live or stay.
This was the first time that I had a lobster and it was DELICIOUS!
I can't tell you exactly what it tastes like, because it has its own taste. It doesn't taste exactly like a prawn or a crab. The white wine was also very nice with the lobster. Most importantly I think is the company. I am happy he liked the dinner and liked the surprise to this restaurant.
Callooh Callah 
After the dinner we felt like going for a drink. Where else to go than to Shore ditch. We found a random cocktail bar online. This cocktail bar has a secret room and very delicious cocktails. This is a cool place for a date night. The cocktails are a bit expensive. They are all around the 10 pounds, but for the experience it is worth to go here.
I must mention that we felt a bit special going to this secret room and drink some cocktails.
Party somewhere in Shore ditch / Hackney
The fun part was we didn't plan anything after the dinner, but we felt like dancing after the cocktails.
So, we ended up somewhere between Shore ditch and Hackney.
Unfortunately, I forgot the name of the place we went. Shore ditch and possibly Hackney are the area's if you don't like the big clubs and if you don't like it when it is too crowded. Usually Resident Advisor can help you to find a party. Better would be if you know someone that knows where the great parties are. I notice Londoners are very friendly when they go out, so you can always ask a local where you can find the best parties to go to.
This was a birthday weekend I always will remember because we did some fun stuff TOGETHER. The memories that you make together makes it worth to just go for it and try new things! It doesn't always have to be with your partner. Make memories with everyone you love and appreciate from something small to sometimes something extra special.
I still love to write these "Hello London" blogs for you guys. Unfortunately, I am not able to write as much as I want to, because of my full time job. (boohoo) I will try to still write weekly or otherwise once every two weeks. For sure I will write a "Hello London" blog if I discovered something new in London or do something exciting. I have a few exciting things coming up, so please stay tuned!
Ciao! ♥ Miss Widjaja
If you like the blog please share it on Facebook.