Hello Beautiful Souls! It is time for another musical! This time a musical, I am very excited about to have seen, The Tina Turner Musical. By now, this is one of my favourite musicals. The cast was fantastic. They did an incredible job with the performance.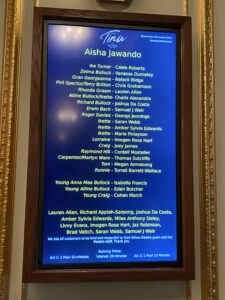 The interview Oprah did with Tina Turner in July 2013 always stuck in my mind. That was the first time I [and maybe the whole world] realised how bad her relationship was with Ike Turner.
The musical captures the [heartbreaking] life Tina lived. You can't help to feel the pain Tina went through in her early years by seeing the performance. It tells the story starting from her small town, Nutbush, Tennessee, to being the fabulous rockstar she [deserved to be] became.
If you have a chance to see a musical, this is one that you will not regret.
[metaslider id="9981″]
#hellolondon #londonlife #livingabroad #happy #goodvibes #misswidjaja2023 #mwlifeafter35 #hellogems #staycreative⁠ #musicals #TinatheTinaTurnerMusical #theatre #entertainment #TinaTurner #Tina #Londonmusicals #Rockstar @tinaturner #TinaTheMusical @tinabroadway @tinathemusical #londonist #london.travelers #londoning #musicalmonth23 #musicalmonth #musicalJune