Hello Beautiful Souls! As you know by now, I travelled to Greece to visit Athens and five different islands in two weeks. The second stop was this idyllic Island of Syros, where we [yet again] had only two days to see it all. So if you are heading to Syros for a few days, keep reading this blog post. There are five top must-sees in Syros, which you will feel like you saw it all.
Here is the itinerary of my five things to do in Syros within two days.
From Athens, we went to the port of Piraeus to take the ferry to Syros. Syros, its capital town Ermoupolis, Ano Syros, is seen as the former municipality of the Cyclades. Coming from Athens, Syros is a [huge] contrast and feels so relaxed after being in a city on the mainland. The Island was the main port with its leading commercial and industrial centre of Greece before the late 19th century. If you have a few days to explore the Island, please look at the itinerary in this blog post.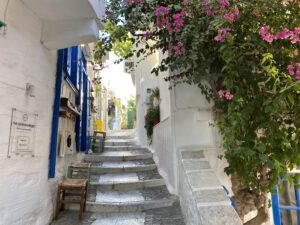 Ano Syros
Ano Syros, which means above Syros, is on a medieval settlement located on a hill. You can hike through picturesque narrow alleys and streets with an incredible view of the port. On your way to the top, you will find some iconic small churches from the Byzantine era. There are lots of spots where you can rest a bit or take mesmerising pictures for your Instagram. [I got you convered].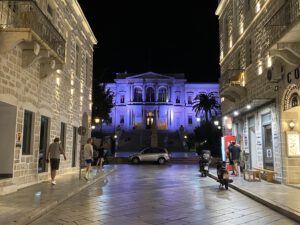 Miaouli Square
This historic square leads to the captivating city hall of Syros – Ermoupolis and the Municipal Library of Ermoupolis. From Miaouli Square, you can find many streets with shops, gifts and terraces for refreshing drinks or bits. One of the best restaurants on this Island is Mazi. This "enchanting" restaurant is in an open space with old stone arches and an overgrown secluded garden. It is fine dining at its best. Very romantic, even if you are with a big group. We all enjoyed the food and drinks we had here.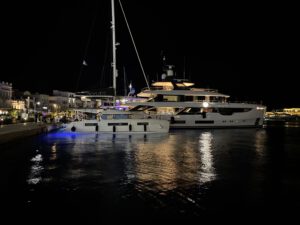 Harbour
Syros is not a party Island like Mykonos. You will not find a lot of tourists around this time. A walk near the harbour is always lovely. Find some gift shops here, but more importantly, have a delicious lunch with a view of the sea. If you like to swim, [this might be a bit cold in September] go on the bus from the harbour to one of many beautiful beaches. One of the beaches I visited was Megas Gialos Beach Syros. There were no tourists on this beach, so you can dip in your "private" beach [if you are lucky].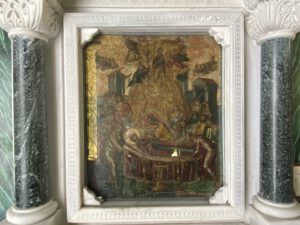 Churches
Island is full of Byzantine churches. These churches are the two churches that stand out and are worth a visit. The first church is The Church of the Assumption of the Virgin Mary. It is the second oldest church on the Island of Syros, built-in 1828. The green marble in this church is fascinating. Don't forget to look at El Greco's earlier work, The Icon of the Assumption 1562-64, at the entrance of the church.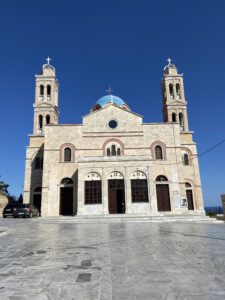 The second church is The Orthodox Church of Resurrection. It's on the top of Vrodados Hill. Find the 1000 steps stairs which lead you to the top of the hill. Once you are on top, it is worth climbing up the stairs. This church has a Byzantine style with neoclassical elements with a beautiful blue dome.
[metaslider id="11868″]
#hellotravel #Greece #livingabroad #happy #goodvibes #misswidjaja2023 #mwlifeafter35 #hellogems #staycreative⁠ #itinerary5things2days #Syros #Greece #summerholidays #meetingnewpeople #familytrip #Ermoupolis #whattodoinsyros #AnoSyros #municipalityoftheCyclades #medievalsettlement #Byzantineera #MiaouliSquare #Mazisyros #MegasGialosBeachSyros #Byzantinechurches #theChurchoftheAssumptionoftheVirginMary #ELGreco #TheIconoftheAssumption1562-64 #TheOrthodoxChurchofResurrection #VrodadosHill @visit.syros @mazi_syros_restaurant @skg_explorers