Hello Beautiful Souls! As you know by now, I travelled to Greece to visit Athens and five different islands in two weeks. The second stop was the idyllic Island of Syros. Now we are heading to one of the "small" Islands of the Cyclades called Paros. In Paros, it was slightly hard to find five, but here are my five top must-sees in Paros. An Island, you will need a day or two to see it all.
Here is the itinerary of my five things to do in Paros within two days.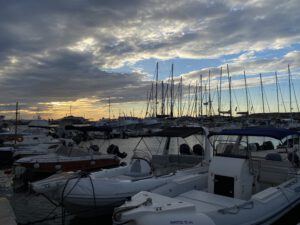 Parikia
When you arrive in Paros, you will arrive at Parikia harbour. Parikia is the captial of Paros. The houses in Parikia town are in traditional Cycladic style with flat roofs, whitewash walls, coloured doors and window-frames and shutters. The whitewashed walls of the homes with coloured doors are very picturesque. Walking around the narrow streets will [at some point] lead you to Frankish Castle. This castle is an archaeological site built in 1260 AD. Some restaurants in Parikia that I did enjoy were Taverna Alexandros. This a lovely restaurant where you can see the sunset while having dinner. The Dorada fish was fresh and tasty. If you want something different than Greek cuisine, try Little Green Rocket. The Little Green Rocket is a fusion restaurant of Mediterranean and Asian cuisine. It has some vegetarian options as well.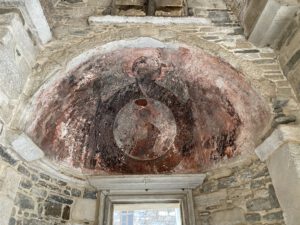 The Panagia Ekatontapiliani
In Parikia town, you will find this ancient Byzantine church from the 4th century A.D., The Panagia Ekatontapiliani. This church originated from the Roman Empire Constantine the Great in 326. The Byzantine interior of this church is mesmerising. There is even an ancient fresco, where you can still find some of it on a 'cupola' inside the church.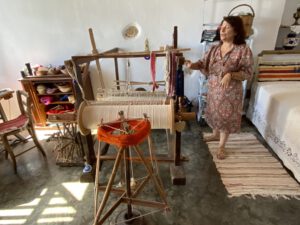 Marpissa
Marpissa only has around 600 inhabitants. Many homes in this village are from the 17th and 18th centuries. In this village, you will find traditional windmills. We met a lovely lady who is a traditional weaver. She invited us to her home, told us how she became a weaver and showed us her home and studio. She is such a sweet lady and very hospitable.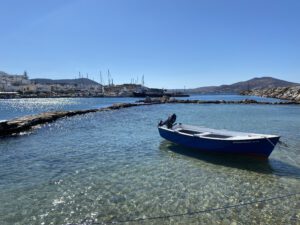 Naoussa
Naoussa is more touristic and has its character because of its small port. There are many great restaurants here to eat [some] seafood and octopus [one of my favourites]. At Axinos Seafood restaurant, I had a delicious seafood risotto. It was one of the best risotto during the complete holiday in Greece. The only tip I can give you is to be careful and check your receipt after because they overcharged us for a few things we didn't have.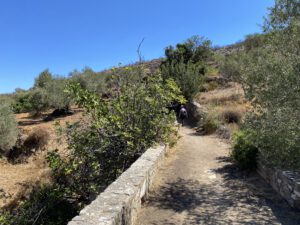 Byzantine Route
The Byzantine Route is a 3,5K trail. It is the oldest trail that connects the villages of Lefkes to Prodromos. It takes more or less an hour to hike through this trail. It is worth stopping and enjoying the panoramic view once in a while during the hike.
[metaslider id="12244″]
#hellotravel #Greece #livingabroad #happy #goodvibes #misswidjaja2023 #mwlifeafter35 #hellogems #staycreative⁠ #itinerary5things2days #Paros  #summerholidays #meetingnewpeople #familytrip #Parikia #whattodoinParos #Parikiaport #Cyclades #ThePanagiaEkatontapiliani #Byzantineera #ancientByzantinechurch #Marpissa #Naoussa #Byzantinechurche #ByzantineRoute #LittleGreenRocket #TavernaAlexandros #AxinosSeafood @alexandros_taverna_paros @skg_explorers