Hello Beautiful Souls and hiking fans! Oh yeah, we are on the hiking roll. I went on another hiking trip with the same meetup group as the one to St. Martha hill.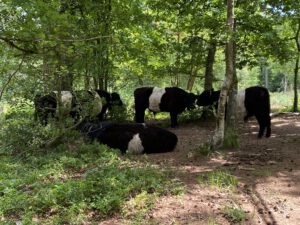 This time we went to Haslemere to start our hike along the Sussex Border path over Black Down to the Temple of the Winds. The walk was beautiful, full of greenery, the woods and some challenging muddy hills to the highest point of the county of Sussex and the South Downs National Park. The view is beautiful from the top. A fun fact is you might see this massive beautiful cows on the path to the top of the hill.
As in the previous hike, we dropped by for a beer in a pub in Haslemere. I can recommend joining a group for a long walk if that is your thing [of course]. You will meet so many fun and nice people, who all live in our around London.
#hellotravel #londonlife #livingabroad #happy #goodvibes #misswidjaja2022 #mwlifeafter35 #hellogems #staycreative⁠ #hiking #Haslemere #thecountyofSussex #SouthDownsNationalPark #TempleoftheWinds #meetup #hikinggroup #nature #meetingnewpeople