Hello Beautiful Souls! This week is a gem from my hometown, Rotterdam. Last month I finally went home and got the opportunity to see the Depot. The Depot Boijmans Van Beuningen is the first public art depot worldwide. They hold a collection of 151.000 art objects. It is a depot and not a museum, but they display some of their art around the building. It is a working depot, which means next to storing the objects, the restoration and research will happen here.
The building is next to the Boijmans Van Beuningen museum. The Depot is an art object by itself. Through the mirrored glass, you will see the beauty of the city. The art collection it holds started in 1849 with the collections of Frans Jacob Otto Boijmans [1767–1847] and Daniël George van Beuningen [1877–1955]. The Depot has a lot of pieces from famous artists, like Rembrandt, Dali and Van Gogh.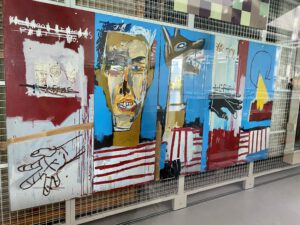 One object that stood out for me was this painting from Jean-Michel Basquiat, Dog Bite / Ax to Grind, visible in one of the display windows. Inside the building, it feels like a surrealistic staircase to heaven. While looking up, you will see some art in between the floors. It is a brilliant concept and slightly scary to walk on those floors where you can see what is below you. The top floor in summer is mesmerizing. You will get to see 360 degree few of the city centre. To treat yourself, go to the restaurant on this floor. The top floor has a beautiful restaurant to get some snacks and a drink [Dutch style]. 
Tickets are €20,00 and are available here. 
[metaslider id="6230″]
#hellorotterdam #londonlife #livingabroad #happy #goodvibes #misswidjaja2022 #mwlifeafter35 #hellogems #staycreative⁠ #dali #rembrandt #vangogh #rotterdam #depotboijmansvanbeuningen #rotterdamgems #depot #art #basquiat @boijmans_van_beuningen @boijmans @rotterdam