Hello Lovely People and welcome back to another "What to do in London" Hello London Blog. This time it is all about these two beautiful stations that I pass by every working day; St Pancras and Kings Cross. I found out there is lots to do around this area in the summer, so why not blog about it and let you know what exciting things there is to do.
Autumn is coming and fortunately it is still a bit sunny here in London. So let's go outside and explore St Pancras and Kings Cross.
Don't forget to grab your pint of beer, note book and enjoy reading this blog.
St PANCRAS and KING'S CROSS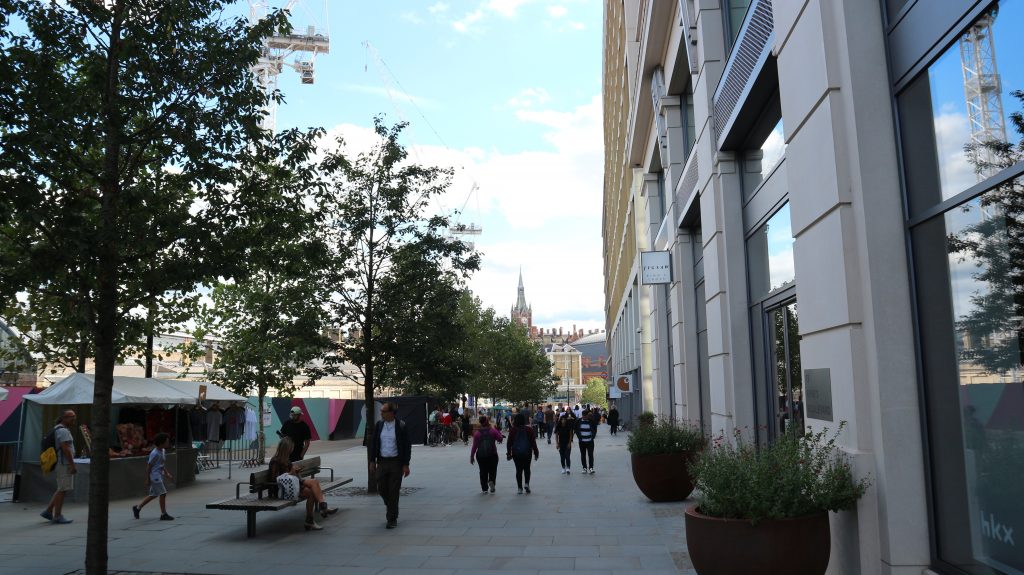 First of all a bit of history about these two stations. These stations; King's Cross and St Pancras is open since 1863. It is the second busiest station with an interchange between six Underground lines: Metropolitan/Circle/Hammersmith & City, Northern, Piccadilly and Victoria. Find more information if you click HERE.
THE BRITISH LIBRARY
Take a look at the British Library which is the largest national library in the world by number of items catalogued. It is a great library for researchers. At the moment there is a Science + Art exhibition which you can visit until somewhere in December 2018. The building itself is already a sight to see.
LEWIS CUBITT SQUARE
This square is a bit behind King's Cross and more in the residential area of King's Cross. The latest event which was really nice, which was Cubitt Sessions, this was wonderful live music festival, with every day one hour of live music. There is always something going on, so please check the website for latest events or click on Lewis Cubitt Square above.
CANOPY MARKET 
This market is located in front of King's Cross station. What to find here? Fresh Hipster Food of course. Really nice if you want to buy a different kind of souvenir or if you want to enjoy something else for once. Also a great idea to find here, "special" cheeses for dinner parties. For opening hours check the website, because they are not open like most of the shops.
PLAT FORM 9 ¾ FROM HARRY POTTER 
Maybe only super exciting for the real Harry Potter fans among us, but the platform where Harry takes the train on platform 9 ¾ is at King's Cross. There is a shop as well where you can purchase all the merchandise from the movie, a bit over priced I think. Nevertheless worth a visit to check off your "Must see in London" checklist. DONE. Maybe take a cute picture for Instagram as well.
REGENTS CANAL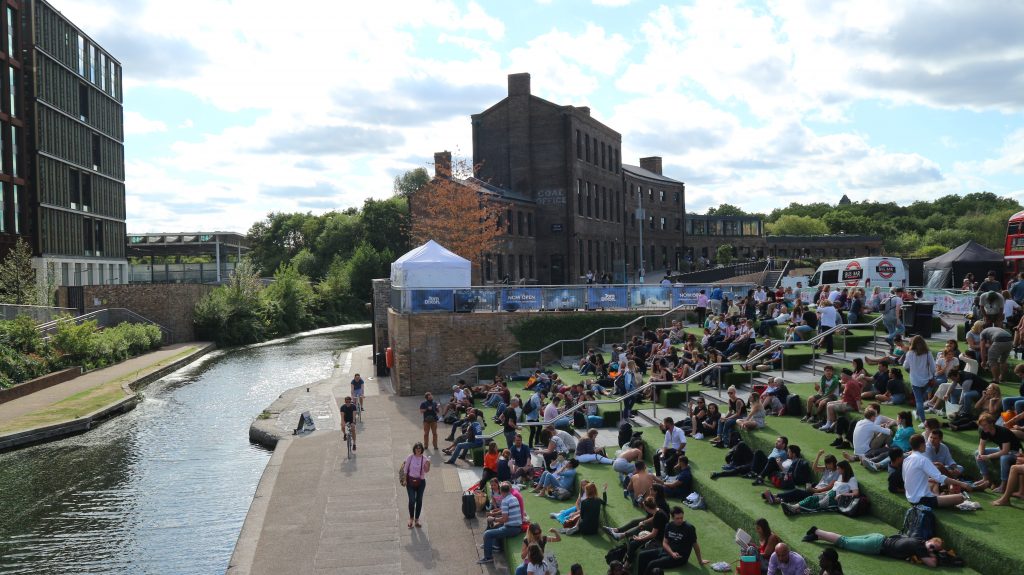 Especially when the sun is shining, it is really nice to chill and relax around the Regents canal. There are many spots where you can relax next to the canal. A tip for the sporty ones under us is to walk along the canal to Camden and back.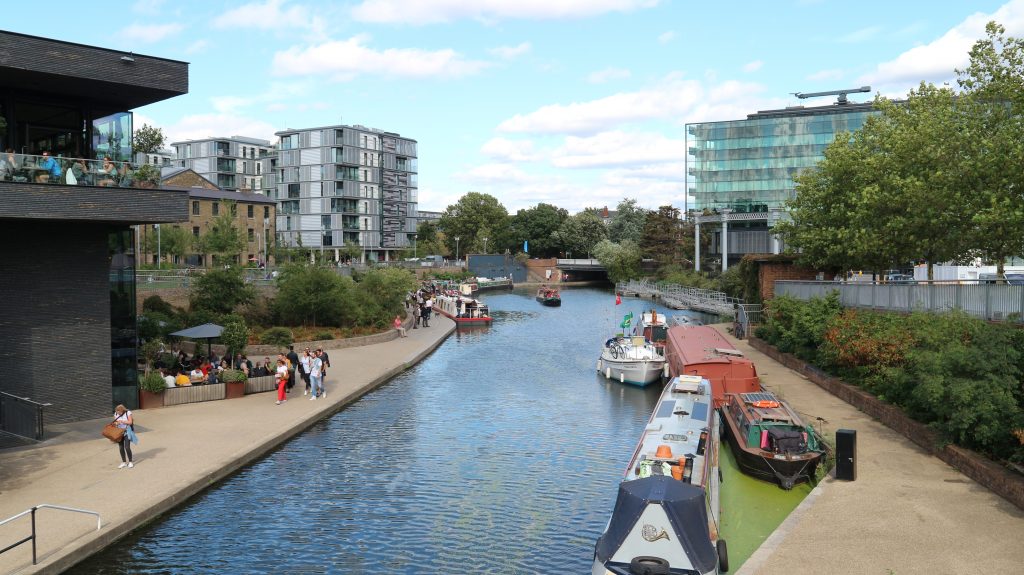 GRANARY SQUARE
On the banks of the Regents canal you will find Granary Square. Check out the fountain in the square which will be lighted by night. Find some nice restaurants around the square to have some drink at. The latest Bridget Jones movie had a scene on this square. You will find the Lighterman house here. Read on to find out what it is.
DISHOOM
Dishoom is an authentic Indian café / restaurant.  This restaurant is located between Lewis Cubitt square and Granary square. Please note that it is possible you need to queue, at least this summer. So be patience, because I was presently surprised by the fast service and the delicious dishes. The dishes are spicy, but in a good way. I did like it more than a typical Indian Curry restaurant. I am not sure if they take reservations, but they work really efficiently and they will try to get you seated as soon as possible. CERTAINLY A RECOMMENDATION.
THE LIGHTERMAN HOUSE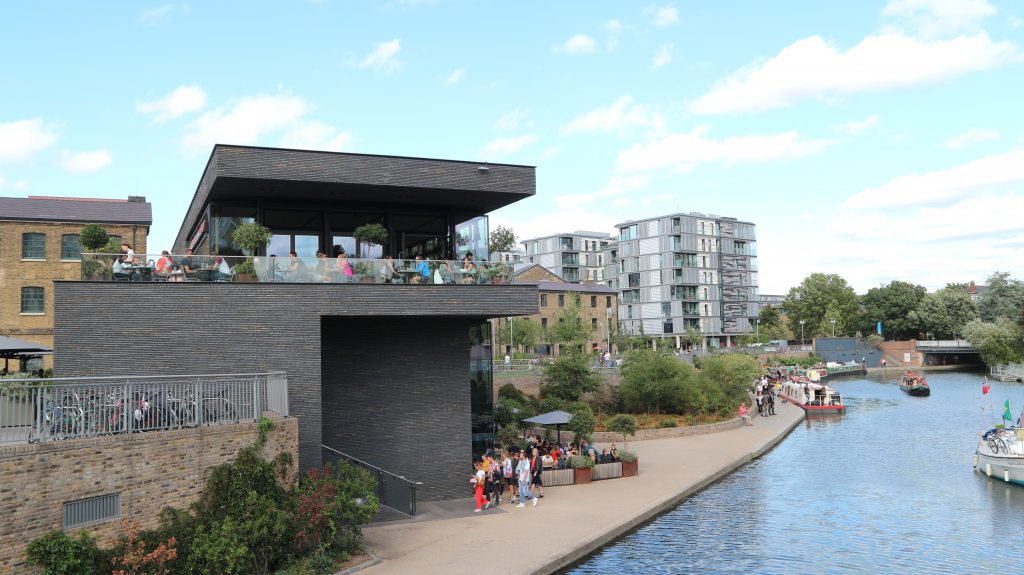 The lighter man house is a gastropub with minimalist modern British food. Great place to catch up with friends and family.
COAL DROPS YARD
On the 26th of October 2018 you can shop till you drop at this new shopping street with shops, bars, cafes and restaurant. Its beautiful Victorian architecture which was built in the 1850's. This was the place where they received and sorted coal as it arrived by train. I think this will be  nice shopping area and sight as a lot of the buildings has been remained. Definitely worth a visit if you still around London end of October.
THE GERMAN GYMNASIUM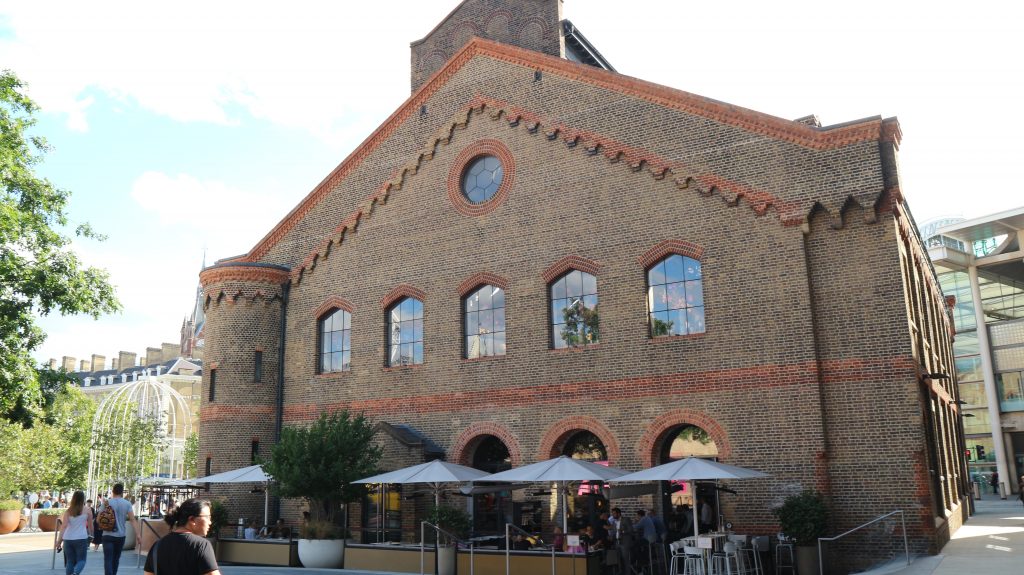 Wow what a history here in St Pancras and King's Cross. A lot of buildings from the 1800 gathered just for a beautiful sight for our sore  eyes. This German Gymnasium is one of my favourite building next to the St. Pancras station. It is literally located between the two stations. Originally it was the first purpose-built gymnasium in England for athletics in Britain. Built in 1864-65 which it first indoor events of the Olympic Games in 1866. It is now a wonderful mix of a European deluxe grand café / brasserie. Most of the original features are remained. Check the website – they serve delicious German specialities.  Great for a date night and still on my list to check!
ST PANCRAS OLD AND NEW CHURCH
This church is dedicated to Pancras of Rome  who converted to Christianity around the year 304. It was built in 1819 to serve the people in the newly built area, Bloomsbury. It is still in use today. Stroll around to see this great neo classical Greek church.
The St Pancras old Church is one of the oldest churches in Somers town, Central London. It is said that this church is from AD625. Roman tiles were found in the fabric of its tower which where they found an inscribed alter stone dated from AD625. In the church yard you will find the tomb of John Soane. Check my previous blog Hello London |Hello Summer were I mention the Sir John Soan's museum and the old St Pancras church as well.
PANCRAS SQUARE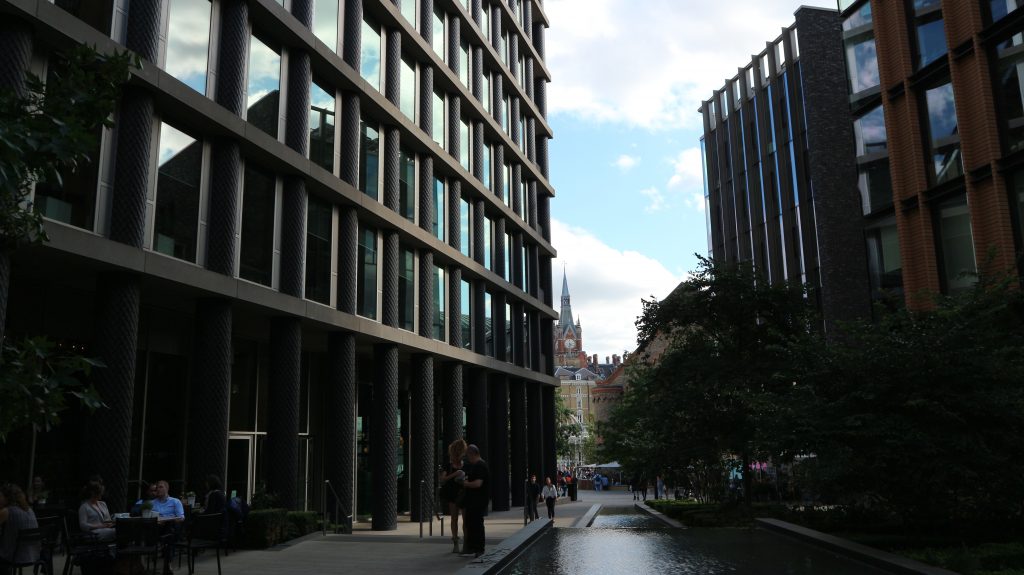 This square is relatively new and a bit hidden between the stations and buildings.  You will find the gateway to King's Cross station next to this square. KIMCHEE is an authentic Korean restaurant that just opened a restaurant here. One of my recommendations if you like Asian food.
CLASSIC CAR BOOT SALE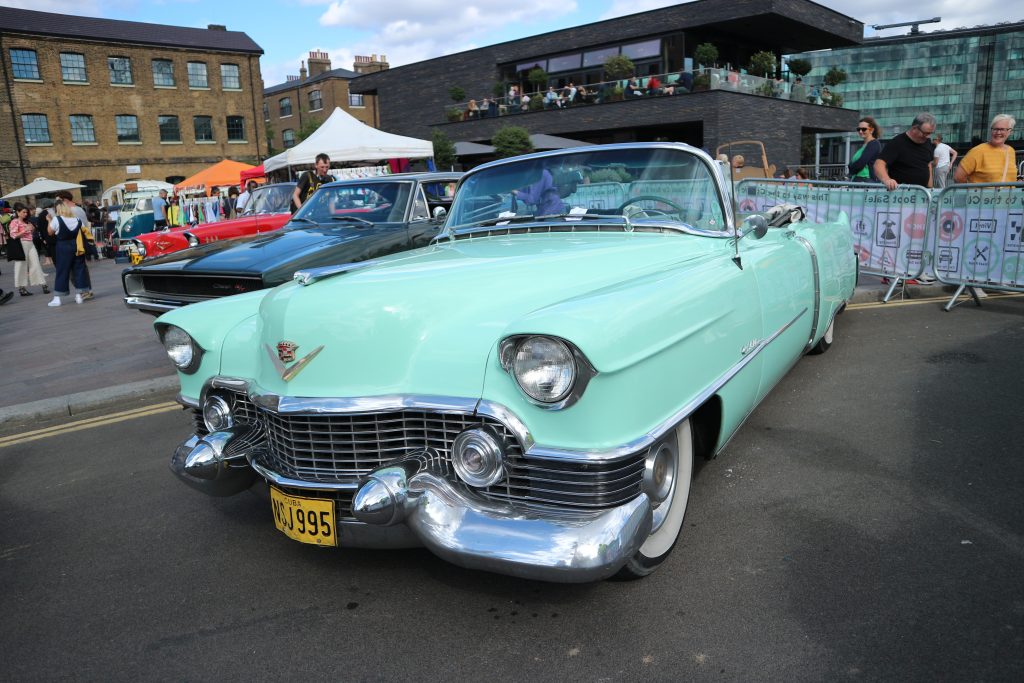 This event take place a few times a year at Granary Square. You can buy (or like me wander around checking) beautiful vintage cars and clothing.  Lovely atmosphere and people. Last event was in August and you will need an entree ticket to get in.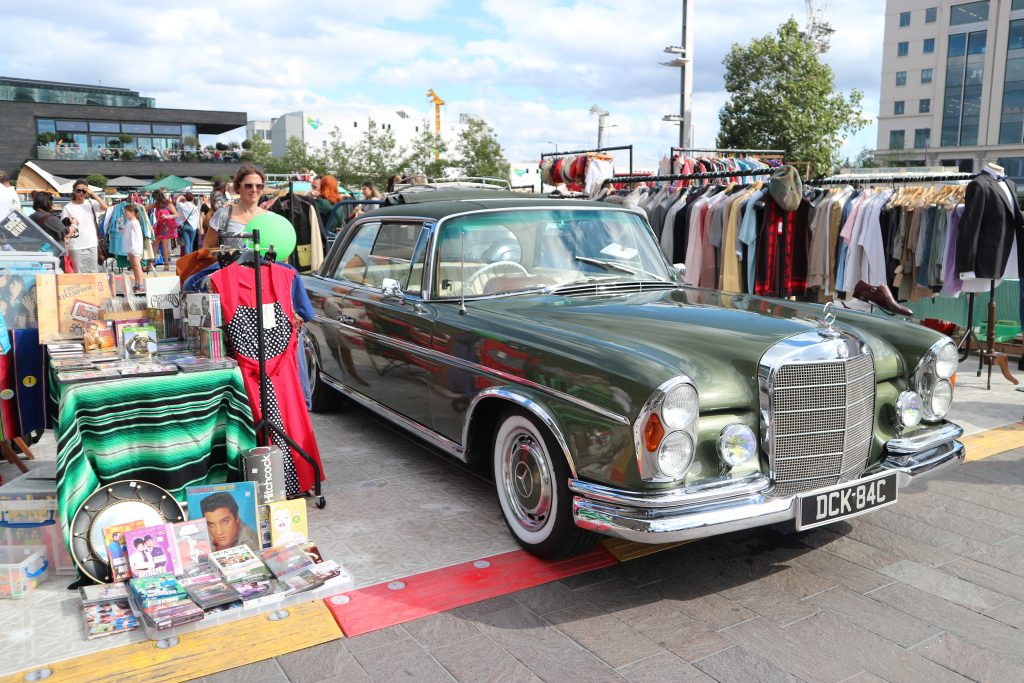 There is so much more to see here in St. Pancras and Kings Cross. I would recommend to just stroll around this area and discover some new great restaurants/bars, shops and museums. Don't be afraid to go in the alleys where you can discover much more about this wonderful neighbourhood.
If you liked this blog after reading, please rate it below, which helps me a lot to see what you guys actually like when you read my blogs.
Many thanks for that!
Ciao Ciao Miss Widjaja