Hello Beautiful Souls! This Taiwanese noodle shop you don't want to miss. It is in the heart of Shoreditch on Redchurch street on the corner and opens till late [11 pm]. [Perfect, right?]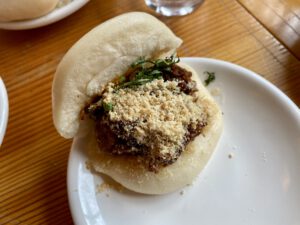 Their menu looks so yummy that you can go for lunch or dinner. For lunch, I tried the fluffy bao buns and the crispy tripe. These buns were heaven and super affordable for around £5,00 to £8,00. I did try the classic bun and the prawn croquette bun, which was so fluffy and tasty. The tripe was surprisingly good! It was a bit too much with the buns [for lunch] but worth it.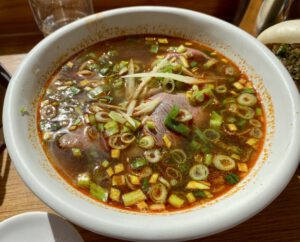 One thing you should try is one of their beef noodles. [It is a Noodle shop after all] The rare beef with some egg yolk is so nourishing that you will leave satisfied. [Trust me] They make [awesome] cocktails as well. The Milk Tea old fashioned was just excellent. They even have some vegan options if you like. There are two vegan buns to try. The service is excellent, which I am happily surprised to see in a small shop. Always good to have some tap water on the table.
[metaslider id="7071″]
#hellolondon #londonlife #livingabroad #happy #goodvibes #misswidjaja2022 #mwlifeafter35 #bao #baonoodleshop⁠ #Taiwanesefood #lunch #london #TimeoutLondon #noodleshop @bao.london @timeoutlondon