Hello Beautiful Souls! Recently I have been to one of the Nowhere Nights – Poetry and Jazz events at Toulouse Lautrec in Elephant and Castle. This event is once a month [on Thursdays], with two top London poets and an incredible jazz band. The entree ticket is only 12,50GBP, so definitely worth a try if you like poetry & spoken words, next to some soulful jazz tunes.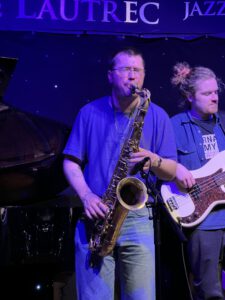 The restaurant itself has three floors; the restaurant, the piano room and the jazz club on the top floor. The Jazz club reminds me of reading about the bohemian time in Paris early 1900. Around this period, you could find artists gathering and socializing in a club like this. [Sometimes, I imagine how it would be being in a time like that and get inspired by all the creative people around you]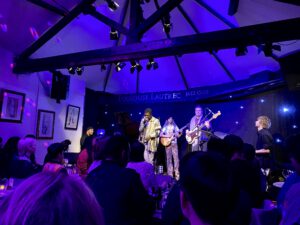 I haven't been to the restaurant yet, but the Toulouse Lautrec's dishes are inspired by historic French gastronomy. [It smelled inviting when we had to go through the restaurant to the top floor]
The few nights I went, one of the top poets were The Repeat Beat Poet and Lisa Luxx [She is a phenomenal performer and artist/poet]. The live band is outstanding. The drummer [James Morgan] and the bassist [James Wilson] are incredibly in their element when they perform. These nights are there to remember. The performers, poems and music all touched my soul. [These events will be visible on my Instagram under the highlight – NOWHERE NIGHTS] I am hooked and can't get enough of these nights!
[metaslider id="5576″]
#hellolondon #londonlife #livingabroad #happy #goodvibes #misswidjaja2022 #mwlifeafter35 #hellogems #staycreative⁠ #toulouselautrec #jazzclub #bohemianparis #spokenword #poetry #thursdays