Get a cup of tea, sit back and enjoy reading this blog..
This blog is dedicated to my two weeks journey to Indonesia. What made me want to write this blog is to give you some tips and tricks if you are planning to go to Indonesia and also because I really like reading personal travel stories/ blogs from you guys. I like to go a bit prepared if I travel especially to countries I've never been, so at least I know what the must-see attraction are and hopefully find some less touristic places in the area.
So I hope there's something in this blog that get you inspired to travel to Indonesia or to any other destinations. (Because from now on I will share my experience when I travel with you guys)
This journey started from London Heath-row to Jakarta with one stop in Doha. The flight took seventeen hours in total. Time difference is around five or six hours later from London. I have to say Qatar airways was a really nice company for long distance flights. Comfortable seats and lot of entertainment.
JAKARTA
First day in Jakarta. We arrived in the afternoon at the airport. With a Dutch nationality you don't have to pay for a visa if you stay less than thirty days in Indonesia.  I did my research for which taxi company is reliable and I found out that Blue Bird is a good taxi company.
So at the airport it is better to not take the first taxi you see when you step out the airport… like we all want to do. I know! (I heard they will charge you a lot or the prices are fixed). The Blue Bird taxi is a bit far to the left when you are out of the airport and usually there is a line, but you know you won't be ripped off. The only thing is you have to pay for the toll on the roads with every taxi you take.
We arrived at the Kosenda hotel, one of the cutest hotel I ever saw and one of a kind concept. This hotel is located in the centre of Jakarta near Grand Indonesia Mall and the national monument (MONAS). By the way, I had one of the best breakfast at this hotel  (unfortunately I didn't took a picture of it  ) We stayed for three days in Jakarta before we went to Jogjakarta. So in sort I am going to tell you what we did those three days. At least the interesting things we did.
Jakarta is a beautiful metropolitan city with lots of impressive skyscrapers and traffic. Even though I have never been in Indonesia it felt like home for me. I think because of my roots.. what else ?!
First day of exploring Jakarta we went to Kota Tua, the Old Town. Here you see a lot of history from the VOC period (Dutch East Indies Company).  There is a square where you will see the old town hall of the 17th century Batavia this is now a museum. To enter this museum you have to pay a small fee. (Not a lot to see here, but a bit of history is always nice to see)
Tip is just to explore that area. The square is also a hot spot for the locals and there are a lot of children that are curious were you come from if they notice you are not from Indonesia. The Batavia cafe is a nice place (a bit touristy) to catch the atmosphere of the VOC period. Next tip is to go to the national monument (MONAS) in the central park. You can take nice panoramic pictures here from the skyscrapers around you.
With so many skyscrapers it is nice to see the view from one of the skyscraper itself to see the highlight of Jakarta by night. A trendy place to do this and also to drink or eat something is the SKY BAR. Here you see a breath-taking view of the city by night.
One of my favourite restaurants with lots of locals, actually only locals is Pondok Laguna. Definitely a recommendation.
Shopping I didn't do a lot in Jakarta, because it was more western oriented. A lot of malls with things you can buy in Europe and I have to say it is not so cheap over there.
The flea market had a lot of nice "antique" things, but I think a bit overpriced. In Yogya I saw the same things for less. So unless this is your last stop.. there are lots of opportunities to shop nice local items.
JOGJAKARTA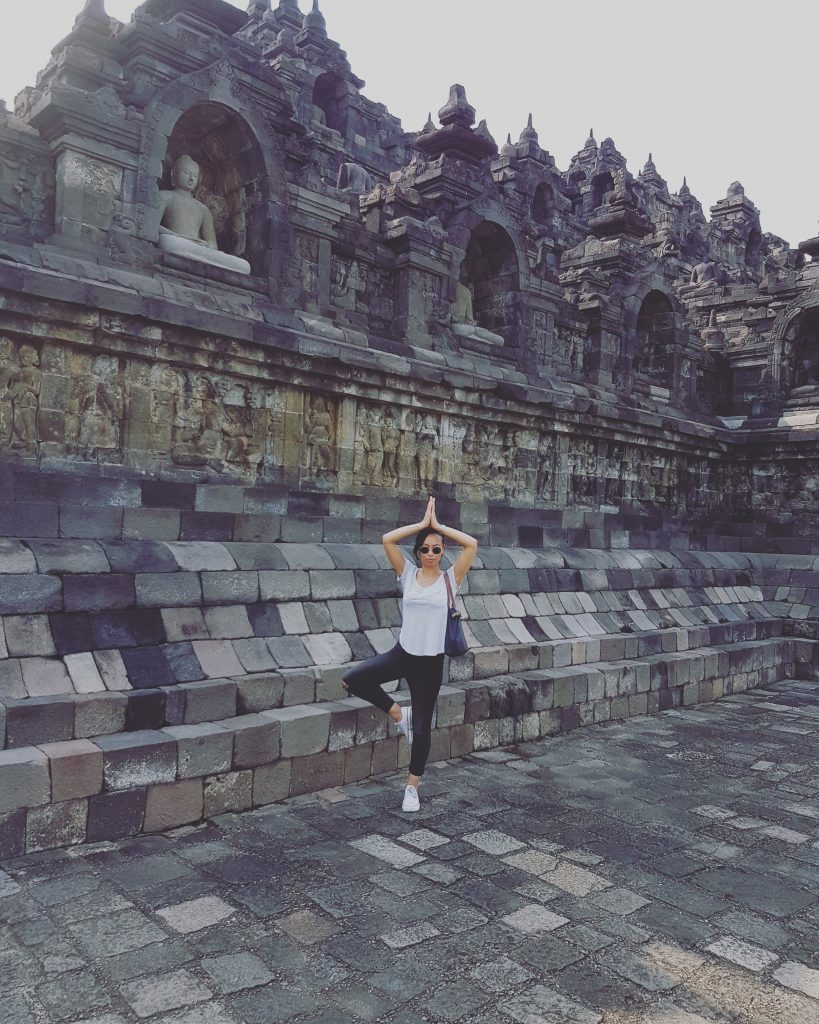 After just less than a few hours flight we landed in beautiful Jogjakarta. A cultural city in the middle of Java.
A tip I forgot to mention before is to exchange in local currency at the airport. It is always handy to have cash because can be hard to find ATM's that will accept your card. Especially in Yogya.
Taking a taxi is much cheaper here. We didn't saw any Blue Bird taxi's here so we decided to take one and discus the price with the driver. In Yogya you can just ask if they put the meter on for you, so you will pay the normal price for the ride. A taxi here is much cheaper than the taxi in Jakarta.
One of the highlights of the trip here were the Borobudur and the Prambanan temples. You can find a lot of info about these huge and beautiful temples on the internet or just ask for more information at the hotel.. A tip is to book a sunrise trip and then the temples. Here you will have the opportunity to see a panoramic view from the hill of the sunrise, nature and the Borobudur.
I felt like in a national geographic documentary… it is truly amazing
A tip also for myself is to do the Merapi volcano hiking and see the Prambanan sunset traditional ballet performance next time if we are in Yogya.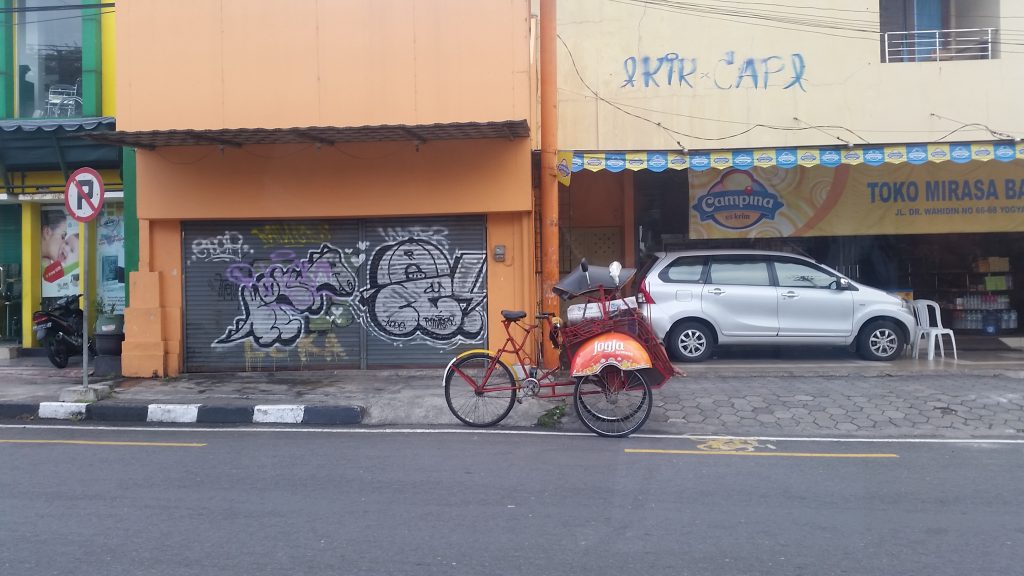 To see a bit of the local area, batik shops, wayang factory and the
famous Malioboro Street you can take a "BECAK" it is a sort of bicycle where you can sit with two persons in the front. A Becak driver can take you all those places and more like the spice and fruit market and shopping street.
Here in Yogya my favourite restaurant is the Westlake restaurant. Nice manager and staff. They recommended some dishes and they were really delicious.
BALI
Up to our final destination Bali. The last six days of our holiday we spend in beautiful Bali. An island so easily to fall in love with.
If you want to see a lot, it can be a great idea to hire a driver for one or more days to explore the island. Thanks to friends in Jogjakarta we met our driver in Bali, who showed us the island in two full days. This is really a recommendation, because it is a great way to see a lot of the island. What I like about exploring the island with a driver is you can tell the driver the places you prefer to see and he will make a plan to see as much as is possible plus you can leave some things in the car. So extra bags with swimsuits, towels, extra shoes or food for on the way is no problem.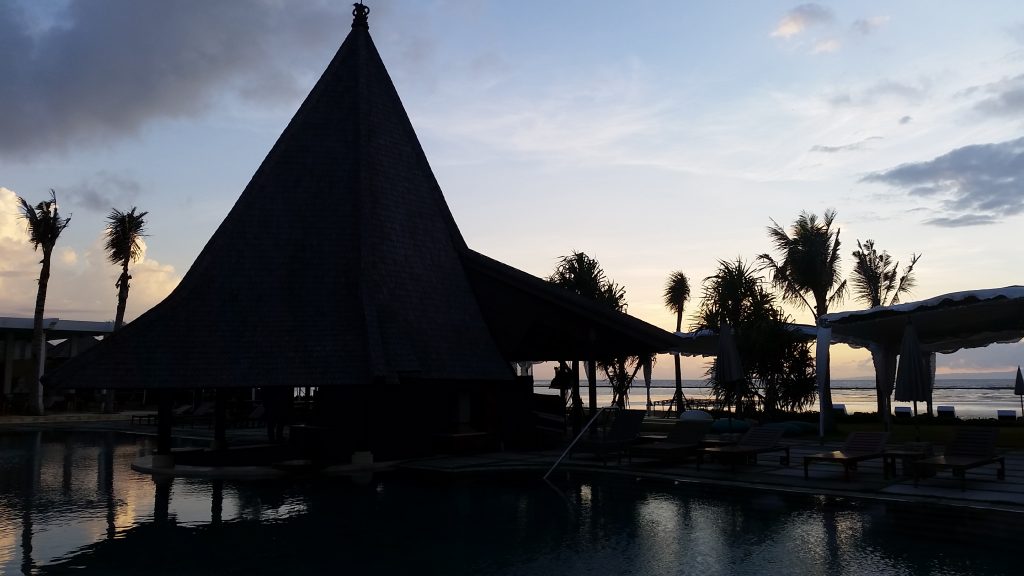 The first day we chilled at our swimming pool and beach at ourresort. At night we grabbed some food in Seminyak. I was happy we stayed in the resort, because the area of Kuta is quiet packed with tourists.
 On Monday we went on our first day of exploring with the driver. We started from our hotel in the morning off to the Butuan Temple. There are lots of temples to see in Bali and all evenly beautiful (maybe some even more) so if you really want to see the nicest in your preference, do some research before.
The next stop was a sort stop at the coffee plantation where you can taste the coffee Luwak and kinds of different coffees.  I think in this area we also saw a rice terrace, but rice terraces you can find almost anywhere in Bali. Just ask you driver to stop at one where it is possible to explore the terrace. The monkey forest is a famous tourist attraction, but one I wouldn't want to miss. A tip here is to put a lock on your bags so the monkeys can't "steal" your personal belongings. There is now one monkey charging his phone in the forest, because he "stole" our external phone charger. Last stop this day was the very romantic sunset at Tanah Lot.  JUST BEAUTIFUL! Don't forget to enjoy the moments and take lots of pictures for memories.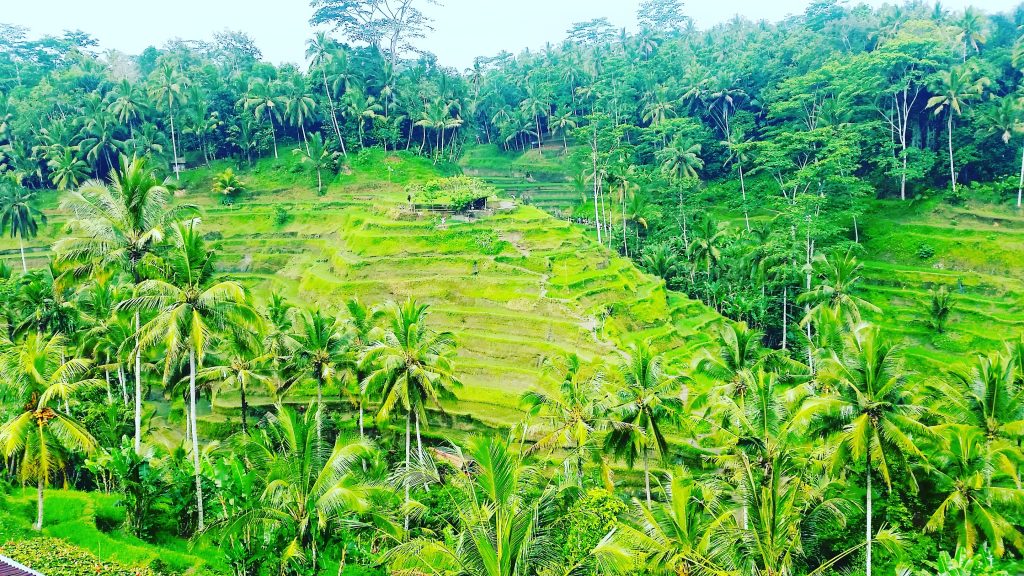 The next day we also decided to explore with our driver. This time a bit earlier, because to get to every location you want to go it will take time to get there.  The first thing we saw this morning was the Barong Dance performance. This is especially made for tourists and it's one hour performance about the Barong story. Normally this performance is played when the have a ceremony at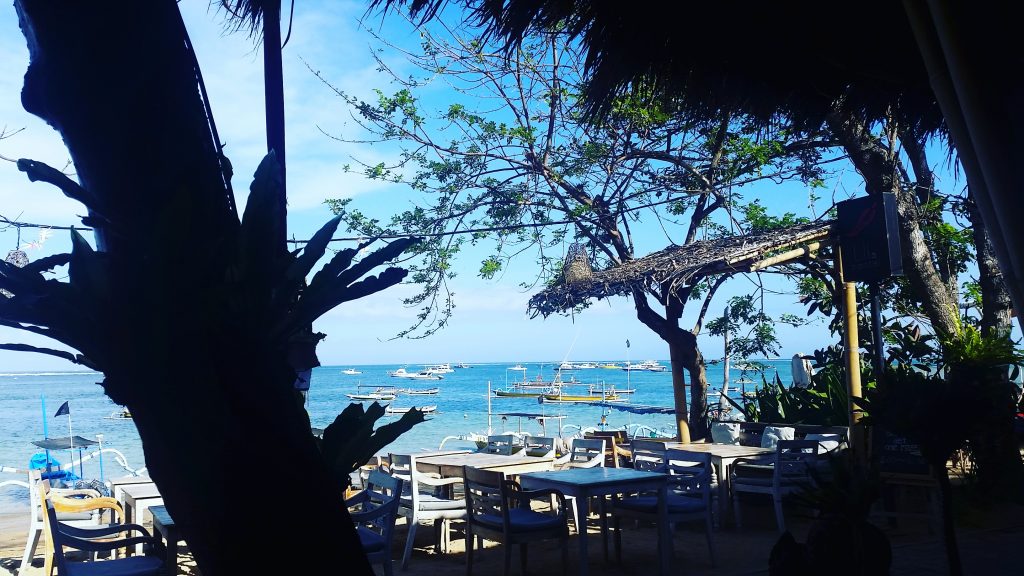 the temple for the locals.
After this performance we went to mount Batur. A volcano with near the volcano lake a natural hot spring. One of the most beautiful views I saw so far. You just have to be there to see how beautiful it really is. At the natural hot spring you can take a dip in the pools and a shower afterwards.
The next temple we saw after the refreshing dip was the holy water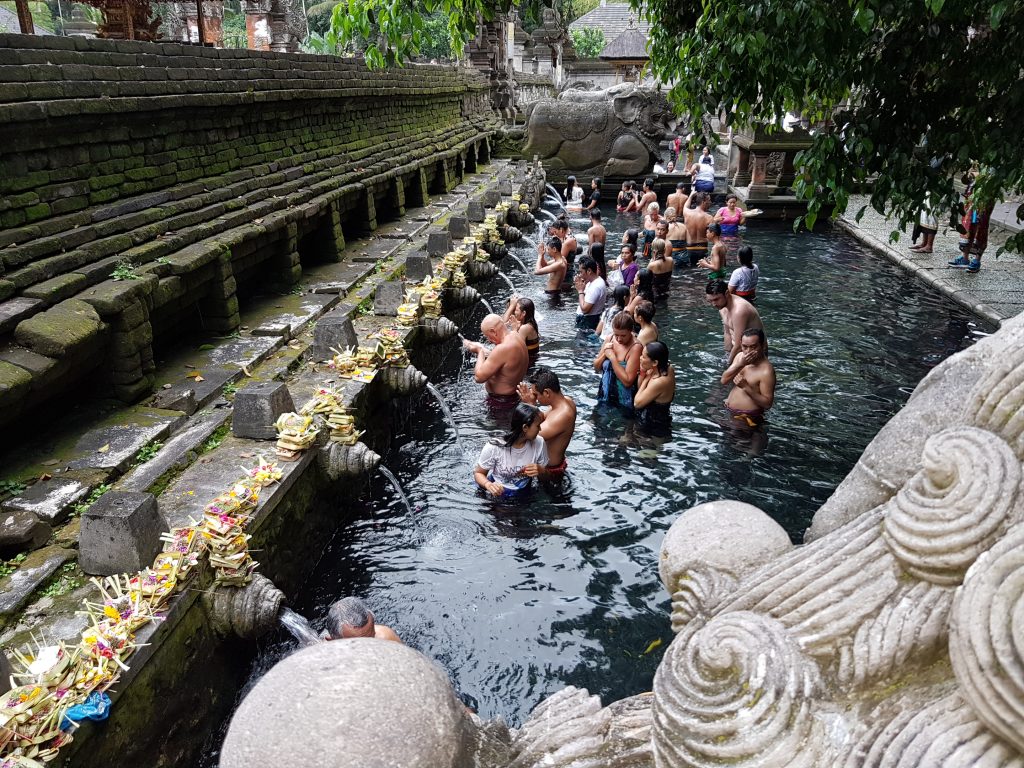 temple, Tirta Empul Temple. If you want you can go in the holy water and cleans yourself. Tip is to bring extra clothes, because as a girl you can't go in the water with your swimsuit. Also I saw lots of signs that say if you are having your period you are not allowed to enter the temple.
Fortunately we had some time to shop. I wanted some nice things for at home so you can always look at it and have a great memory of Indonesia. What I really liked is that they are specialist in all kinds of craftsmanship. There are a lot of artist in Bali, which I really liked.
 The last temple and one of my favourite is the Gunung Kawi.
It's in a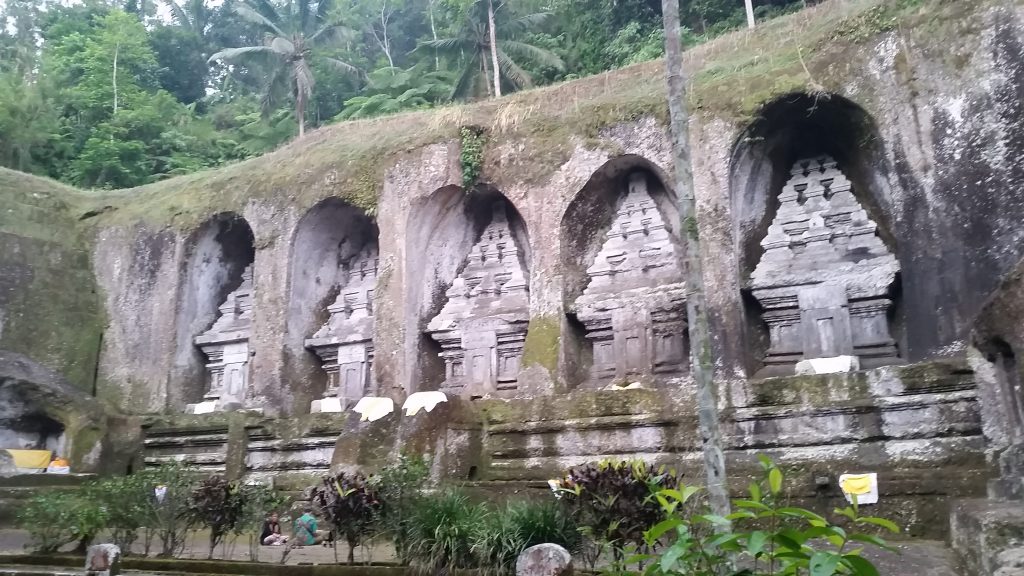 valley and just breathtaking how the temple is graved out of stone. When we arrived there, there were almost no tourists left. You can find some information about this temple on the internet. This temple has conquered my heart and I fell in love with it. So mysterious, majestic and serene.
After those two intensive days we decided to do a bit of self-exploring. We went to Sanur beach, nice area with lots of restaurants at the beach, but not the right the side to see a sunset.
I am a bit jealous of all the people who are going to Indonesia anytime soon. I hope this blog gave you some ideas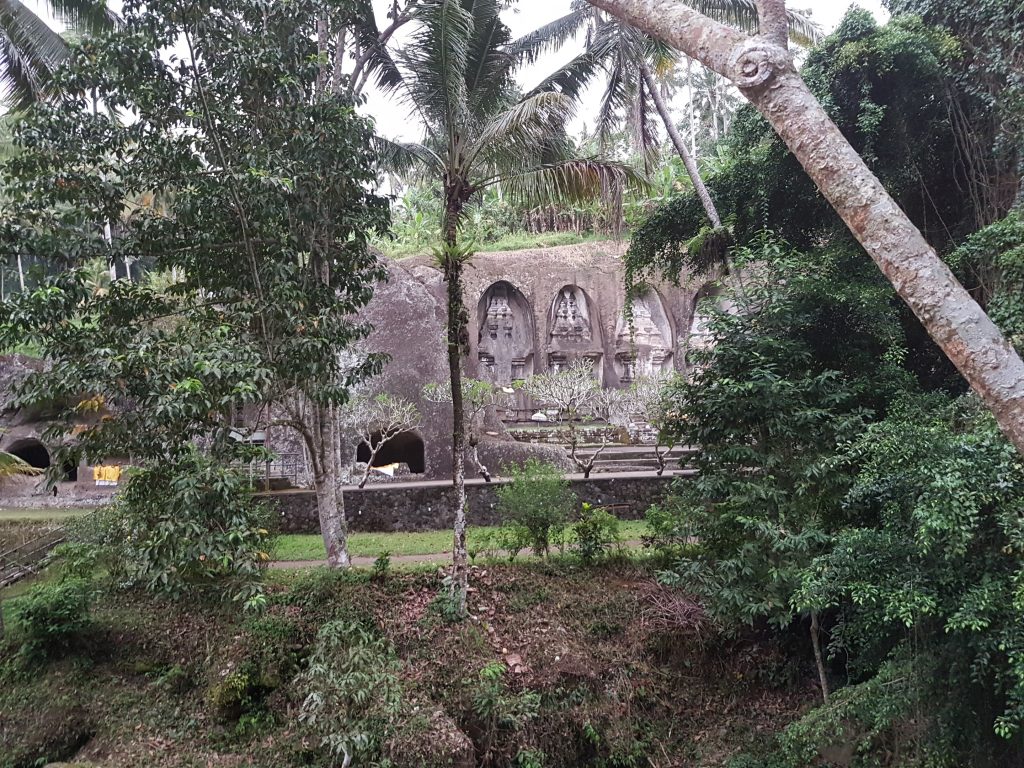 of what to do and see. Do some research on the net so you know a bit what to expect.
But mostly enjoy your stay in this beautiful country! The people are very friendly and it's a safe country to be a tourist in at least that was my experience

Ciao! ♥ Miss Widjaja