Hello Lovely People, welcome back to a new Hello London blog post! This time a must-see exhibition at the British Library about the fight for Women's Rights. The exhibition will be open until the 1st of August 2021. I believe if you go on a Tuesday, you will be able to see the exhibition for free. Check the British Library website for more information.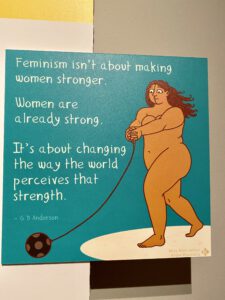 The exhibition covers how #feminist activism here in the UK has its roots in the history of women's rights. You will get inspired by all those women who paved the way and fought for equality so we can live in a fairer world. 
Get to know about these powerful women and how they paved the way to make the world more equal. Starting from Cornelia Sorabji, who is the first woman to study law at Oxford University to Hope Powell, the first British woman to gain the highest European football coaching license. Find out about many amazing Suffragettes, Contemporary activist groups and challengers of recent years and the causes they fight for. 
One of my favourite activists is Jameela Jamil. I love the movement she started in 2018 on Instagram with I weigh, which reminds us, women, that we are valuable and perfect in all shapes and forms. The beauty of this movement is to let us women realise we are more than looks, beautiful in our own way and not to feel obliged to keep up with what society wanted us to be.
As women, we need to stand together, keep fighting for equality and look out for each other. Be a friend, help other women out and acknowledge other women achievements. We can all learn from these powerful women. Let the exhibition inspire you to be a powerful woman as well.
#UNFINISHED BUSINESS: The Fight for Women's Rights
[metaslider id=3230]