Hello lovely people and welcome back to a fresh blogpost with a new content. This blogpost is categorised as a fashion blog (by myself), because after two years of blogging, it is about time to speak/ write again about one of my forgotten passions… Fashion.
I definitely grew up with fashion and trends, finding out what my style was during college and the jobs that I had back then over the years. I know I went a bit overboard with the fashion trends in my twenties and I got a bit suck into that poisonous addiction of fast fashion and more is more! Four or five years ago, I started to buy less and less… but I had still a lot of crappy cloths at home that I did not wear or wanted to throw away.
When I moved to London, I had to get rid of so many clothing I bought over a period of twenty years. (Not kidding, it was a LOT!) I decided then and there to be more conscious about fashion, more focussed on what my style exactly is, now I am in my thirties, what to buy and choosing quality over quantity. I am quite proud that I am so much more better in my choices regarding buying clothing than years before. I do enjoy wearing the pieces that I buy now much more and I do actually wear them all. All of this is for another blogpost as the title of blogpost is the Dior exhibition, so stay tuned for that!
This blogpost is my first fashion related one. It is dedicated to the one and only mesmerising exhibition (so far) that I ever saw here at the Victoria and Albert museum London; Christian Dior, Designer of dreams.

Miss Widjaja
I had no idea what to expect until I was at the exhibition. I realised then and there, that this exhibition is completely sold out until the end, so if you got some tickets, you are very lucky! Also if you still need to go to the exhibition, you might want to read this blog afterwards. Spoiler alert all over!
So for everyone who could not get a ticket to the Dior exhibition… I got you covered with some beautiful pictures of this exhibition. (At least I hope so) I can honestly say, in realtime it is hundred times better than a picture of course. I did hear that if you go early in the morning to the V & A museum around 10 am-ish. Each morning they will release some daily tickets last minute, but I can not guarantee anything unfortunately. There might be some great news that I read via TimeOut London. V&A is going to release the next batch of Dior tickets on the 15th of April 2019.
So Ladies and gentlemen, grab your usual glass of Prosecco I would say (It is appropriate today) , sit back and enjoy this experience I had with me at the Dior exhibition at the V&A 2019.
First impression
The very first impression was that it was super busy. You just cannot deny how many fashion minded people we have in London. Probably all the fashion bloggers, vloggers, influencers and people from the fashion industry had a ticket to see this exhibition. There was quiet a queue in front of the exhibition entrance, but the minute I was in… it was already worth the long wait. Each room is so wonderfully displayed with those beautifully crafted clothing. You can really see how beautiful the cloths are crafted and preserved.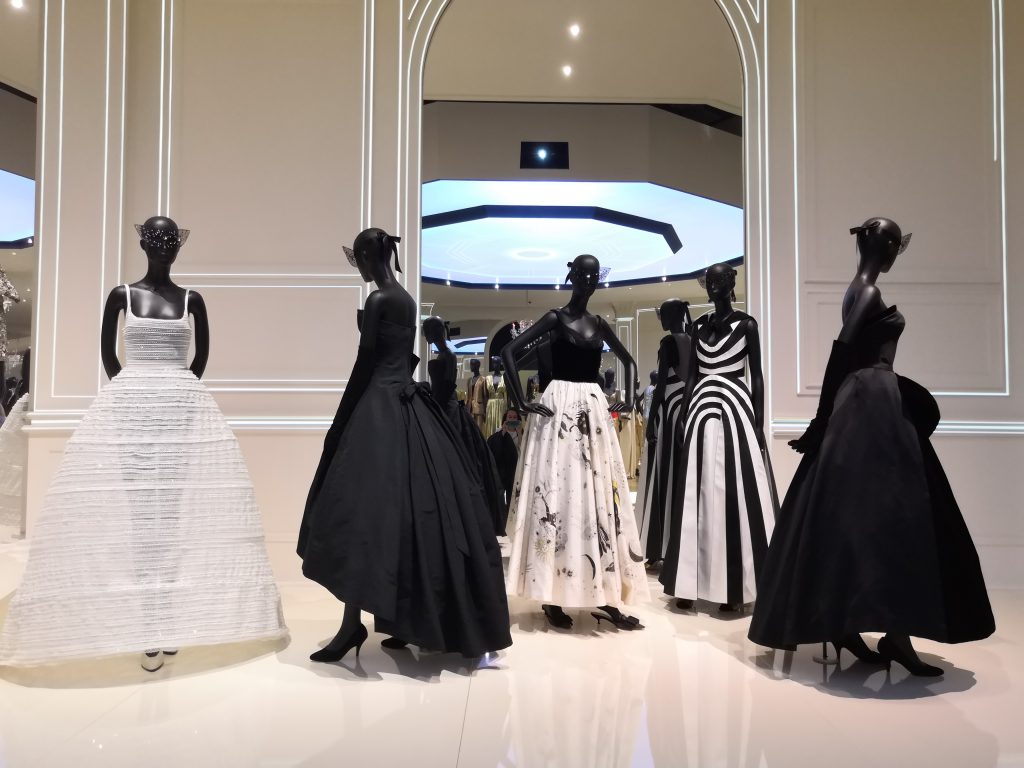 Mesmerising displays and settings
Going from room to room, it is getting better and better. In the ballroom you almost want to cry of happiness. The Dior fashion house produced so many beautiful clothing through different designers from 1946 till now. It is like walking through a fashion magazine and a fairy tale at once. To walking through a palace, a white forest with a mesmerising ball room as the grand final.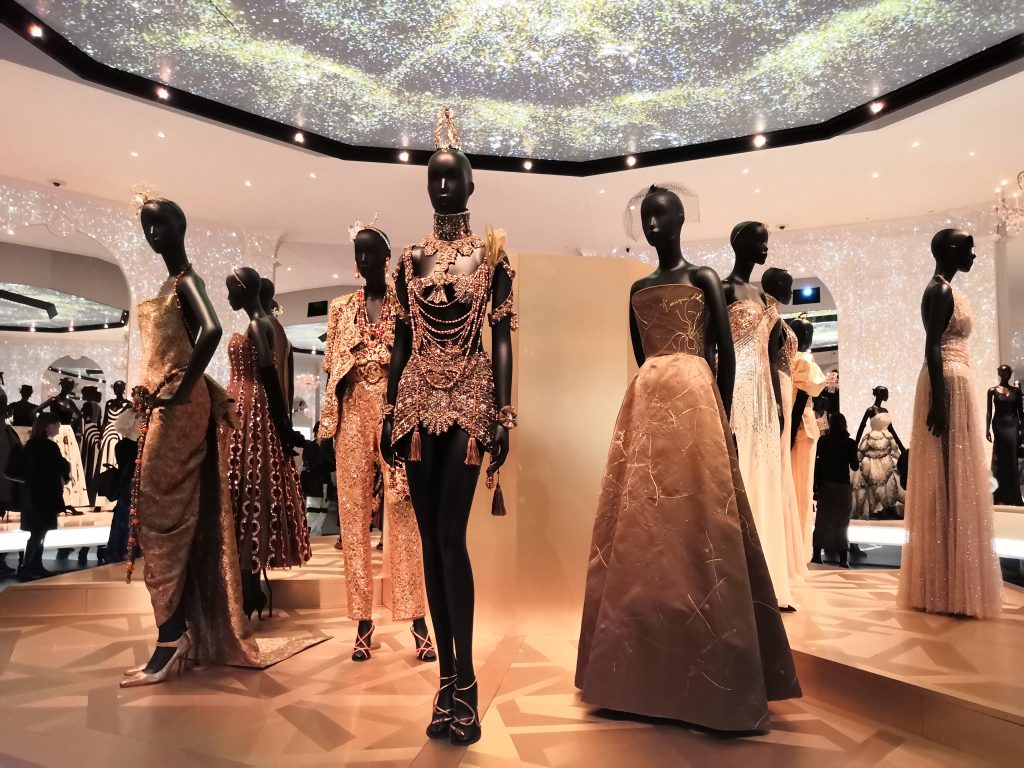 Designer of the Dior house
The creative directors that are highlighted in this exhibition and from whom you can see the creations that they made for the Dior house are the following;
Christian Dior – 1946–1957
Christian Dior was born in a seaside town called, Granville in Normandy, France.
He was a master at creating shapes and silhouettes; Dior is quoted as saying "I have designed flower women." His look employed fabrics lined predominantly with percale, boned, bustier-style bodices, hip padding, wasp-waisted corsets and petticoats that made his dresses flare out from the waist, giving his models a very curvaceous form.

Wikipedia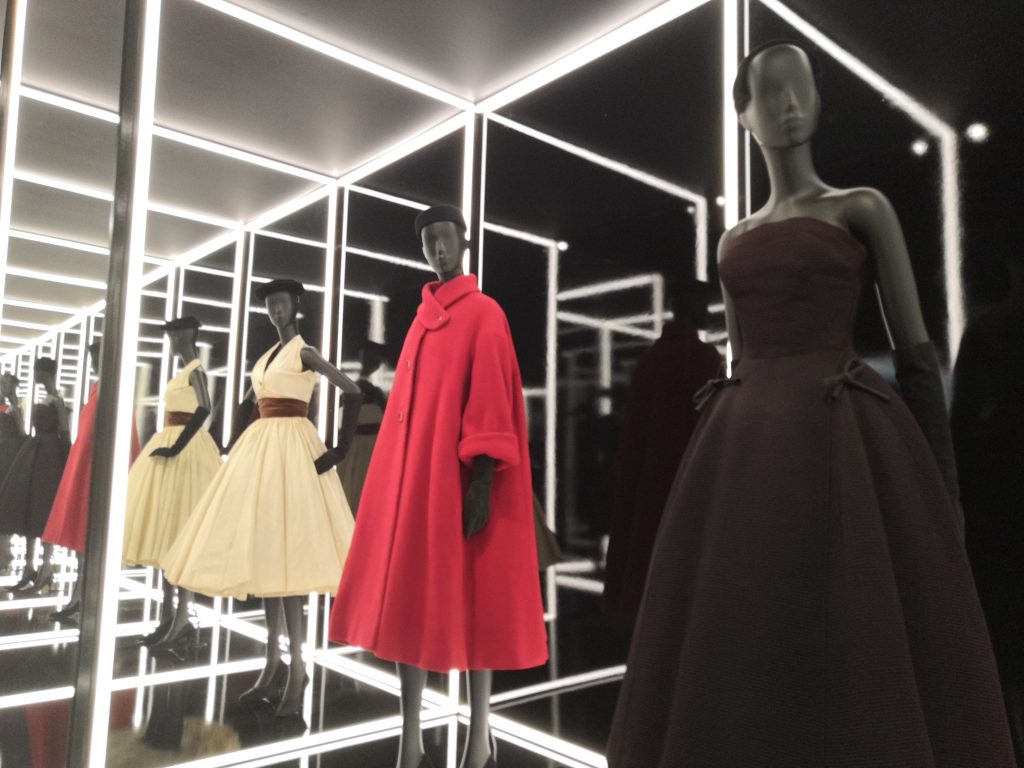 Yves Saint Laurent – 1957–1960
Yves was picked out by Dior to be the first and only Head Assistant of the company.
The clothes were as meticulously made and perfectly proportioned as Dior's in the same exquisite fabrics, but their young designer made them softer, lighter and easier to wear. Saint Laurent was hailed as a national hero.

Wikipedia
Saint Laurent left after completing six Dior collections.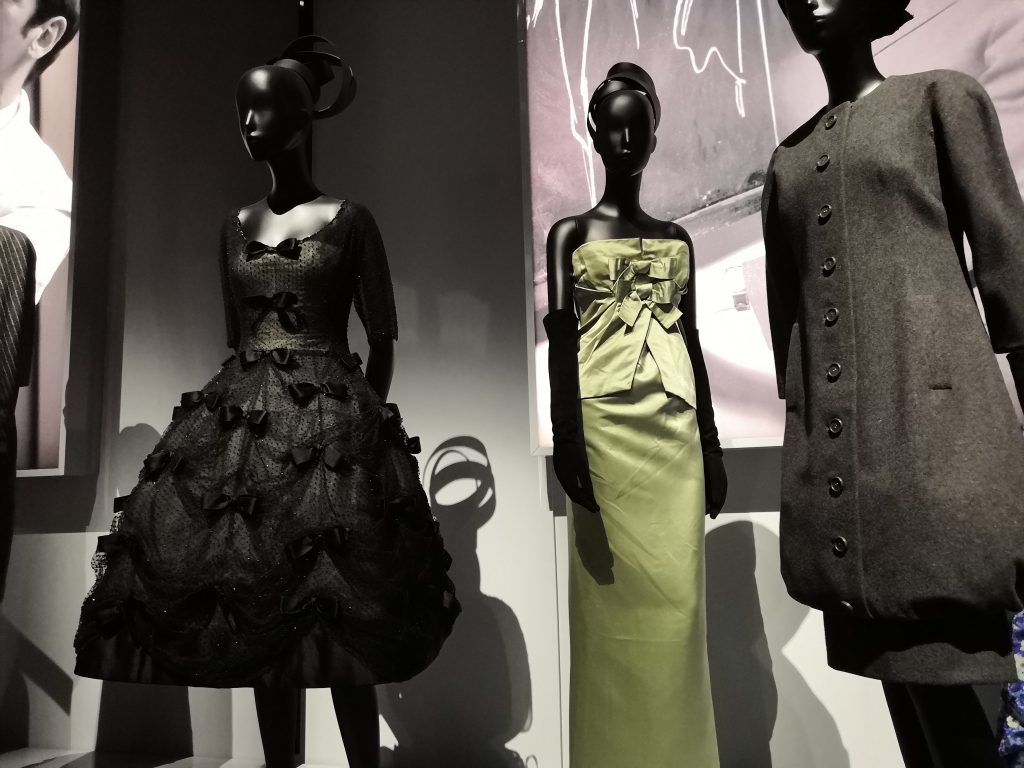 Marc Bohan – 1960–1989
Bohan's designs were conservative, but wearable and elegant. His collection was well known by prominent social figures. Elizabeth Taylor ordered twelve dresses from his 1961 Dior collection.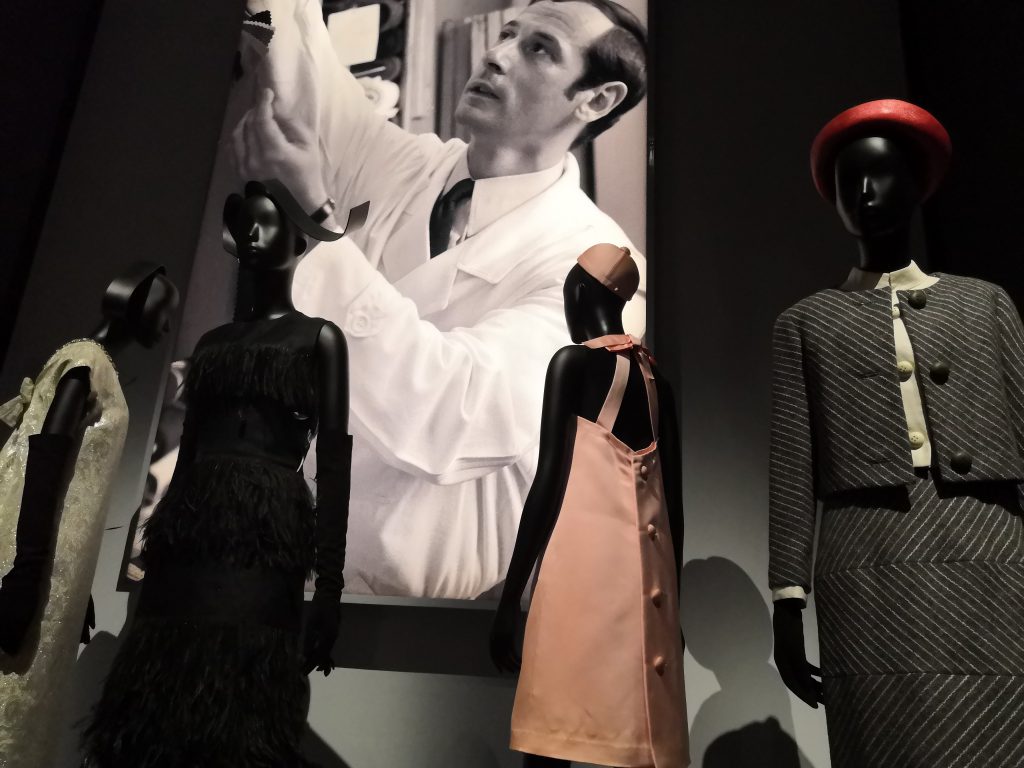 Gianfranco Ferré – 1989–1997
This Italian designer who studied architecture left behind the traditional Dior concept of flirtation and romance, and introduced concepts as "refined, sober and strict."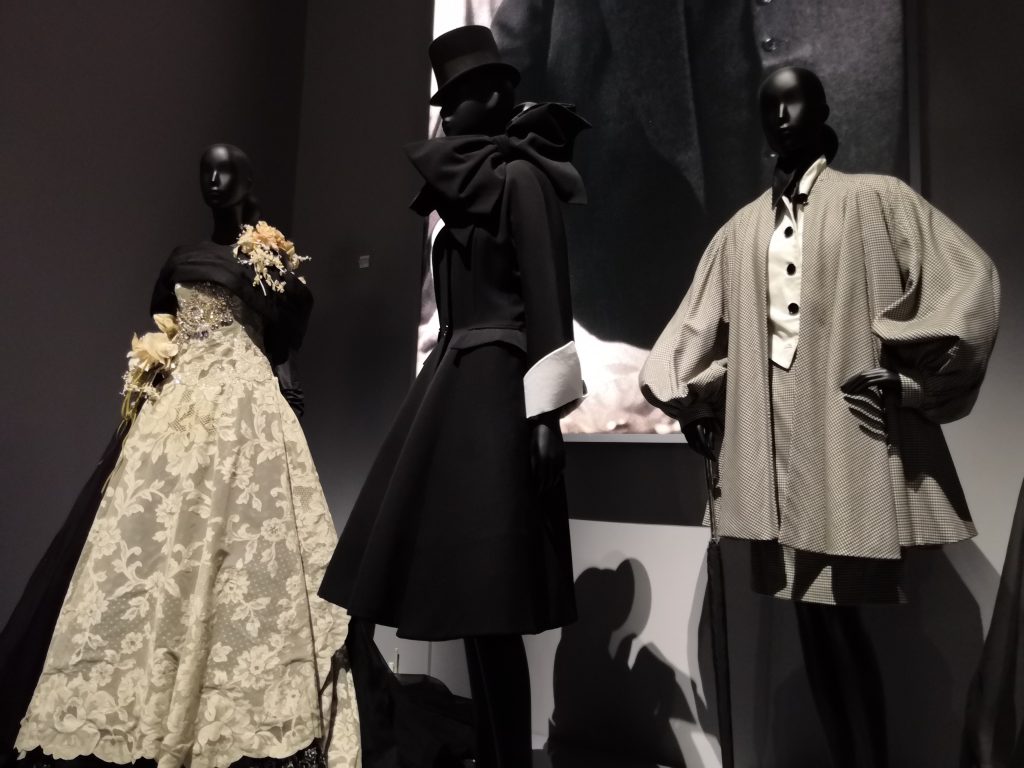 John Galliano – 1997–2011
It was said by Arnault the CEO of the DIOR house that Galliano has similar creative talent very close to Dior himself. They both have an extraordinary mixture of romanticism, feminism and modernity. Seeing his creation here at this exhibition, they are very extravagant.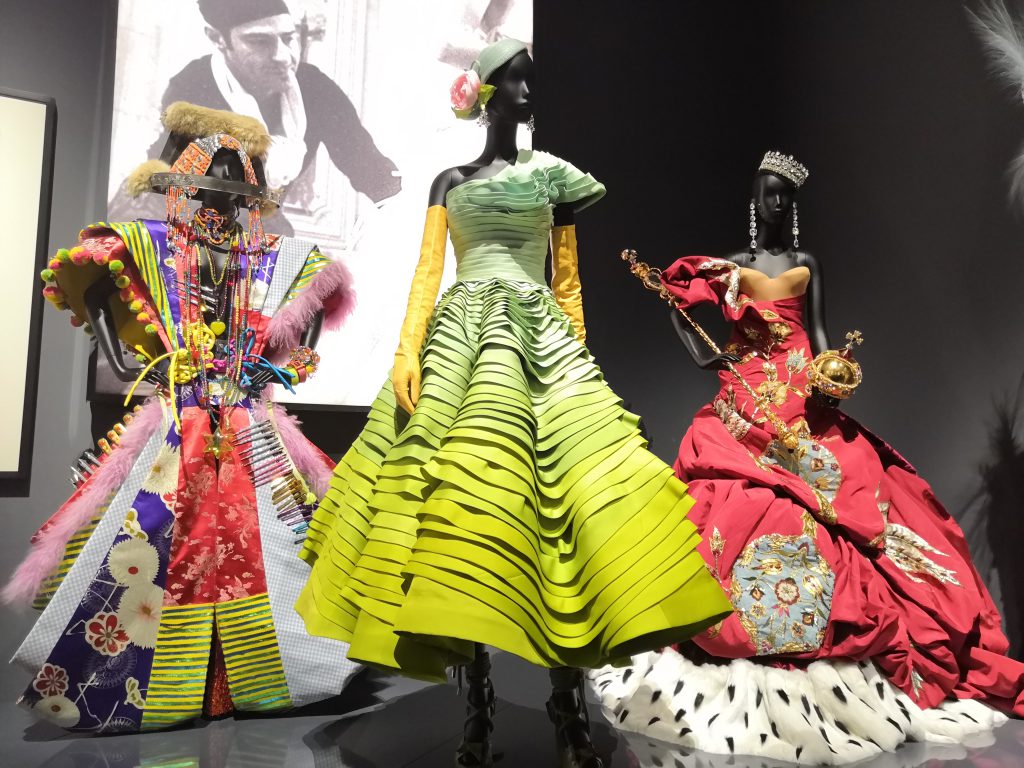 Raf Simons – 2012–2015
Belgium designer Raf Simons is known for his beautiful simplicity and minimal designs.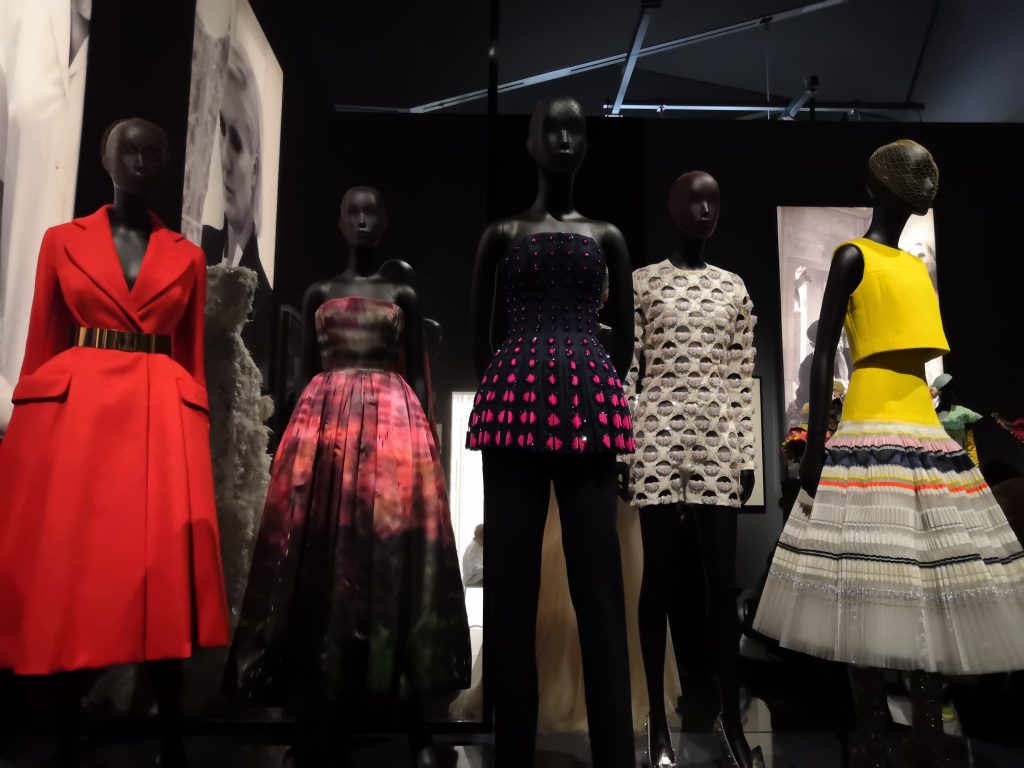 Maria Grazia Chiuri – 2016–present
This is the first woman in the Dior house as creative Director. Chiuri is from Rome, Italy and worked many years for Valentino.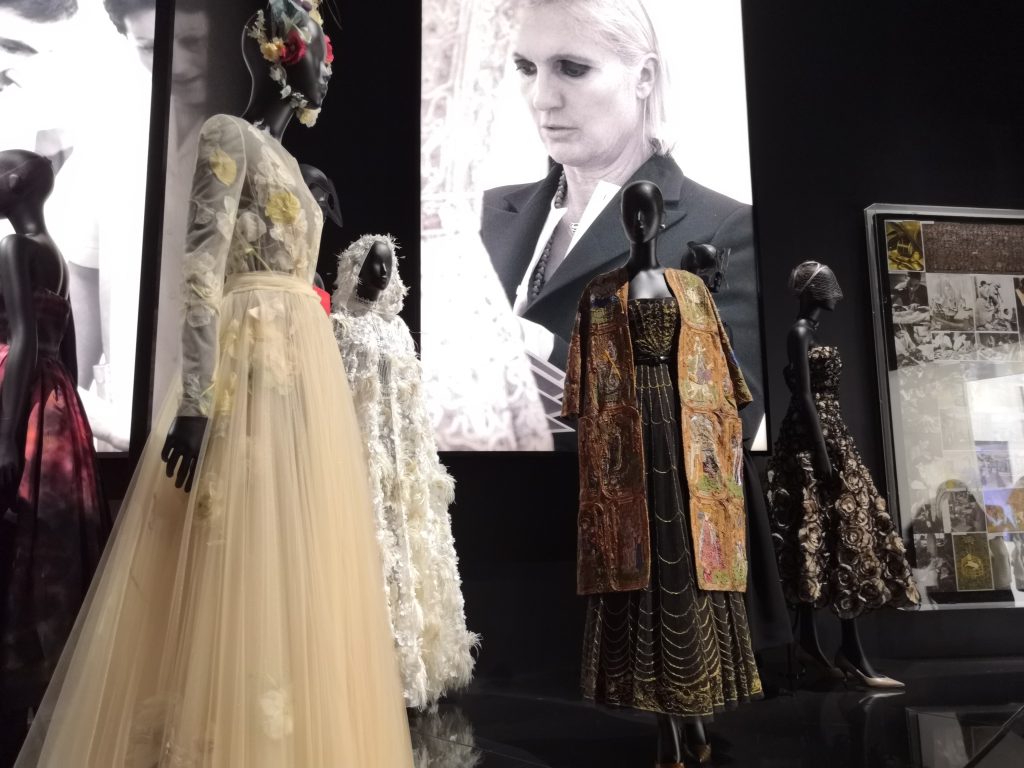 Celebrity Ambassadors
In the beautiful ball room, where you really need to take it all in and enjoy what you are seeing. (next to taking lots of pictures of course)
Here you will find some dresses that some ambassadors wear at one of the awards shows.
I saw a dress that Jennifer Lawrence and Rihanna wore, I can't remember to which award show exactly, because the ball room has so many beautiful pieces that I forgot unfortunately. I am not that it to fashion at the moment.
The gallery below will give you an impression of the exhibition. Just click on each picture to see the full size.
Final thoughts
It is definitely one of the best and well thought exhibition that I saw so far. Each room is carefully thought through, from Dior his own creations, to the craftsmanship of the Dior house, to the creative designers over the years.
You really get a sense of who Christian Dior is. Through his many classic designs and the designs that were carried out through different creative directors over the years, this fashion house still stands strong as one of the World's top fashion houses today. You can really see why if you are at this exhibition.
The Dior exhibitions at V&A definitely gets a 10 /10 for the mesmerising experience each room will take you to. I am really happy that I went to this exhibition and I did learn a bit more about Christian Dior and the Dior house.
I hope you enjoyed this blogpost as much as I love writing it. Finally, I wrote my first fashion related blogpost and I know for sure, many more will follow.
If you liked what you have just read, please rate this blog with a few stars. I really appreciate the time and effort you took to read my blog. Thank you all!