Hello Beautiful Souls! It is this time of the year, Bonfire night! I love a great Bonfire night with beautiful fireworks. Bonfire night is the 5th of November and a time to remember/celebrate the gunpowder plot that happened on that day in 1605. The gunpowder plot is now known as Guy Fawkes Night or Bonfire Night.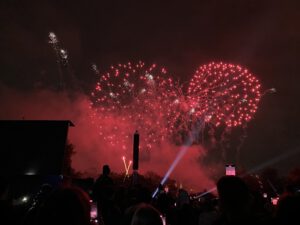 The gunpowder plot was a failed attempt to kill King James I by a group of English Catholics. On the 5th of November [1605], this group of English Catholics planned to blow up the House of Lords during the State opening of the Parliament. Guy Fawkes, who had ten years of military experience, was given charge of the explosives. The authorities heard about the plot and searched the House of Lords on the 4th of November. They discovered Guy Fawkes guarding 36 barrels of explosives that were enough to blow up the Parliament and got arrested. The gunpowder plot was celebrated back then by ringing the Church Bells. It evolved into Bonfire night over the years.
Every year there are parks in London where you can celebrate Bonfire nights. The most beautiful fireworks I have seen are at Battersea Park. At Battersea Park, the Bonfire night is for two days on the weekend of the 5th of November. You don't have to break the bank to buy a ticket, but buy your ticket in advance. Other places to see fireworks are Alexandra Palace, Crystal Palace and Victoria Park. The last time I went to Victoria Park was years ago to see the fireworks [free entrance back then].
Happy Bonfire Night!
#hellolondon #londonlife #livingabroad #happy #goodvibes #misswidjaja2023 #mwlifeafter35 #hellolondon #staycreative⁠ #hiddengems #batterseapark #battersea #London #zone1 #bonfirenight #GuyFawkes #funexperiences #gunpowderplot #houseoflord #parliament #fireworkslondon #KingJamesI
@batterseapwrstn @batterseaparklondon #londonist #london.travelers #londoning #thingstodoinlondon