Hello Beautiful Souls, This guided [walking] tour about female artists in the Tate Modern was one of a kind. In March, we celebrate the month of women in history. Women's history month is the opportunity to enrich ourselves with a tour to hear about amazing power women that opened doors for many of us. Via Look Up London, we found this tour in Tate Modern about Female Rebels with a very passionate tour guide called Emily. [So happy to have joined this tour, you can see that she loves what she does and has a lot of knowledge about art]
Unfortunately, there are still not a lot of female artists represented in museums around the world. It is a shame [and hopefully] this will change in the future. We need more female perspectives in art and around us.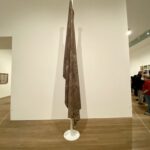 The first art we saw is from Teresa Margolles, Flag 1 2009. My first feeling when looking at this flag is sadness. The fabric was used to clean sites of murder around the northern border of Mexico. Violent death due to powerful drug cartels controlling smuggling routes to the USA. It contains all kinds of substances next to blood and soil. You can feel the sadness and heaviness when you look at it.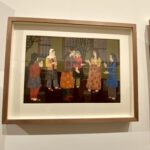 The second art is from Gulsun Karamustafa, Prison Paintings 1972-8. This activist was arrested and imprisoned after the Turkish military coup in 1971. Pregnant women who gave birth in prison had their children with them. These children only knew prison. Karamustafa used bright colours in her painting, although you can see the sadness in the faces and in the activities they do.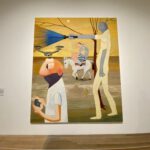 The third art is from Nicole Eisenman, The Darkward Trail 2018.
In this piece of contemporary art, Eisenman uses satire and allegory to engage. It expresses her disgust for America's conservative turn and followers of Trump.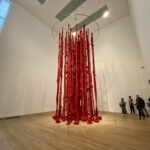 The fourth art is from [poet and artist] Cecilia Vicuna, Quipu Womb [a poem in space]. This piece of art refers to the monthly cycle. It demonstrates the menstrual blood, the energies, flows and cycles of nature. Looking at this piece, I immediately feel [imagine] the heavy pain of a monthly cycle.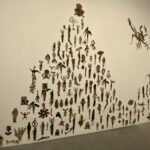 The fifth work is from Mary Beth Edelson, Selected Wall Collages 1972-2011. These are 143 collages, used from found images from [a range of different] sources, such as ancient mythology, art history, popular culture and nature photography. One figure you will see a lot is the ancient Greek trickster-Goddess Baubo.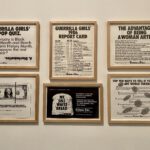 The sixth art is from Guerrilla Girls, called Guerrilla Girls' Pop Quiz 1990. Loving these kick-ass ladies already. The Guerrilla Girls are an anonymous group of activist artists who highlight sexism and racism in the art world. Their main targets are artists, gallery owners and museums. [Quite shocking there are such a small percentage of female artists in galleries and museums]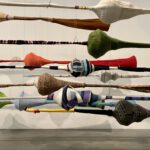 The seventh art is from Yin Xiuzhen, Weapon 2003 -7. These are a series of sculptures that resemble missiles hanging from the ceiling. Yin uses everyday materials and likes repurposing old fabrics to show that these are not disposable commodities. These fabrics carry traces of their previous lives and owners.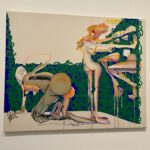 The eight art is from Christina Quarles, Casual Cruel 2018. One of my favourite pieces of art. Christina painted this while the US government was separating families at the US and Mexico border under Trumps' policy of Zero Tolerance. She was thinking of how casual and careless the government was about something that had significant psychological implications. [You feel the devastation of the families between borders]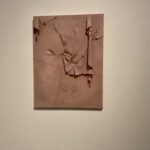 The ninth art is from Patricia Belli, Traps 1996 and Textiles and wood. Her work suggests a process of entrapment that includes the power of attraction and objectifying women's bodies. Quite some powerful pieces of art, because this made me think. When you wear sexy lingerie, do you wear it for yourself in the end? Or is it because men and society want you to wear it and believe you do it for yourself.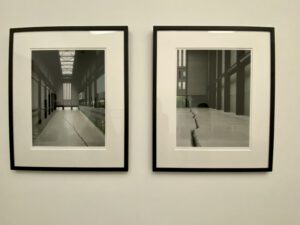 We were lucky Emily squeezed in another art before the last one. This one is from Doris Salcedo, Shibboleth II and IV 2007. These are pictures of the Turbine Hall commission, Shibboleth. The famous crack in the concrete floor at the entrance of the building. [The Turbine Hall commissions are the most excited commissions in the building]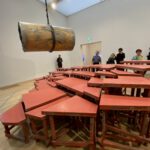 Finally, we arrived at the tenth art. This room is full of installations. The artist here is Phyllida Barlow. Phyllida transforms everyday household materials into large-scale sculpture installations. She is interested in the act of remembering details that have been lost in the process.
So this enlighted tour by Look Up London and tour guide Emily was outstanding and enriched me with these female artists that I haven't seen before. I am [definitely] looking out for more female artists when I am next in a museum or gallery. To find more tours by Look Up London, click here. They have some great walking tours in different areas in the city. Thank you for sticking to the end.
[metaslider id="5829″]
#hellolondon #londonlife #livingabroad #happy #goodvibes #misswidjaja2022 #mwlifeafter35 #hellogems #staycreative⁠ #tatemodern #lookuplondon #femalerebels #womenhistorymonth #walkingtours #womenempowerment @look_uplondon