Hello Lovel Readers, it is time for another easy peasy recipe after almost a year. I have to say, I love cooking again. It feels a bit like therapy and I am very happy that I can cook for others this period. If you like to follow my cooking journey, best is to follow me on Instagram. For specific cooking-related content click as follow; my cooking journey in 2020 and my current cooking journey in 2021.
Spaghetti alla carbonara is a simple recipe that I ate many times before but never made myself. Mainly because I always thought it was hard to make the carbonara the right way, at least that were always my thoughts.
Recently I saw this recipe again on Social Media and I thought this is actually not so hard to make. Plus you do not need a lot of ingredients. So, I wanted to challenge myself and make a delicious Roman spaghetti alla carbonara.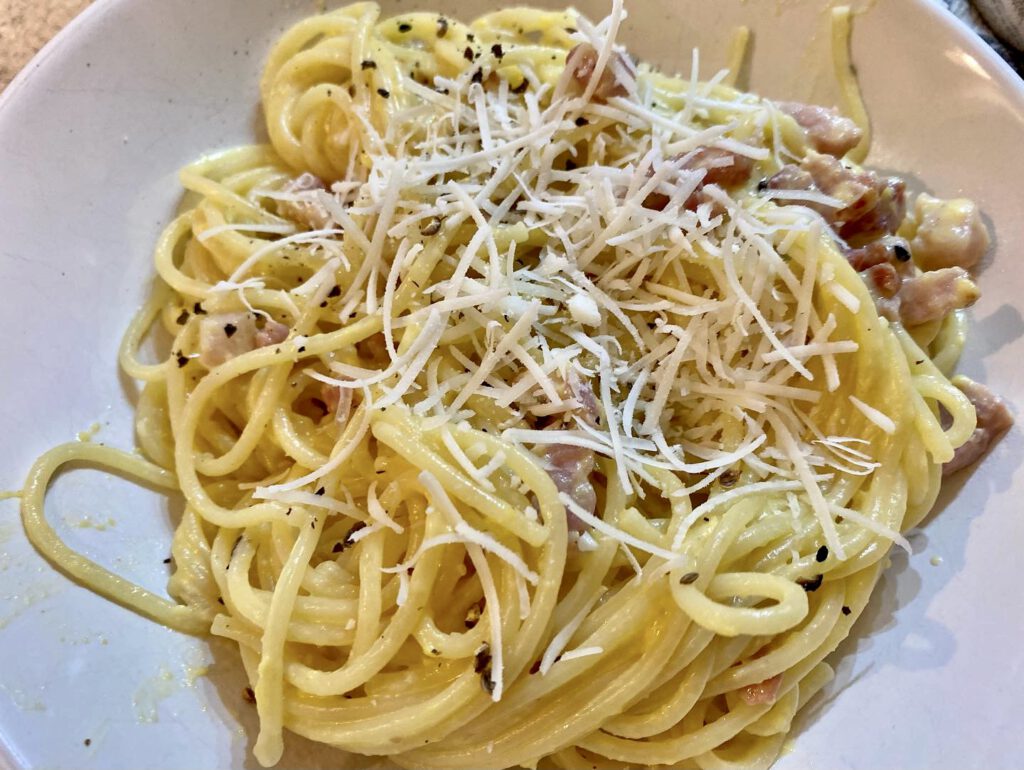 What do you need ?
Eggs – I use the yolk, but I think it is allowed to use the whole egg. Tip; use 1x yolk per person and add an extra one at the end
Black pepper
Pecorino Romano cheese – 50 grams per person
Pasta – spaghetti 100 gram or less per person
What's next?
Prepare the pasta as usual. Brown the pancetta in a non-stick pan. In the meantime, put the egg yolk in a bowl and add the cheese and black pepper. Mix this up and add a bit of the pasta water to dilute the mixture and make it creamy. When the pasta is al dente, add to the pancetta, turn off the heat to prevent cooking of the eggs. Add the carbonara sauce to the pasta and mix mix mix. Add a bit of pasta water to make it creamier.
Et Voila! My first-time Pasta alla Carbonara looked perfect and it was very delicious. At least that is what they said 🙂 Enjoy making your version of this delicious Roman dish.